Xbox Gamer Leaves Fans Bewildered With a New Guinness World Record – "Can I Freeze a Casserole in It?"
Published 06/23/2022, 12:15 PM EDT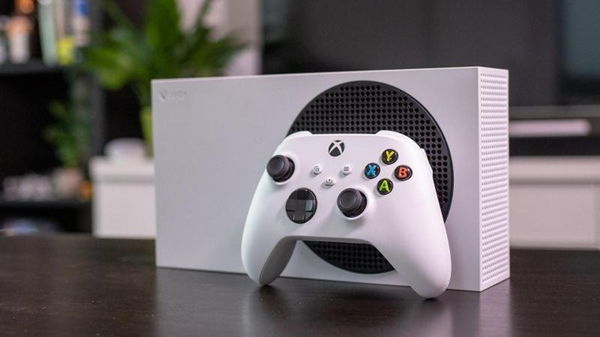 There are running jokes about Xbox Series X and S's size within the gaming community. The consoles are often called minifridge or huge boxes ever since their release and have become a hilarious topic of discussion amongst the console players. One of the major talking points of these consoles is their size and shape. However, imagine someone building an Xbox series console which is way beyond proportions?
ADVERTISEMENT
Article continues below this ad
There is an Xbox console model which is larger than the ones on the market, perhaps larger than anyone can imagine.
ADVERTISEMENT
Article continues below this ad
Xbox fan and engineer from the United States, Michael Pick, created a humongous replica of the Xbox Series X console. This console is so huge that it has earned its name in the Guinness Book of World Records.
Xbox fan gives a worthy tribute to the console by creating its humongous replica
As you can already see above, Michael Pick from Huntsville, Alabama, USA created this 2.08m x 1.04m x 1.04m Xbox console which is by far the largest in the world. He achieved this incredible feat on December 9th, 2021.
Michael loves to take up engineering challenges and this was something that was quite fun for him to build. He is planning to donate this creation to a children's hospital which makes this effort definitely worth it.
Michael drew inspiration for this project because of his personal connection with Xbox consoles and titles. He grew up playing some of the classic Xbox titles such as Halo and it's pretty obvious that nothing would be a better tribute to those childhood memories than this!
WATCH THIS STORY – The Best PlayStation, Xbox, and PC Games Based on Popular Novels
The project took around two days of planning and a month's worth of work for coming to fruit. The trickiest part was to design and make the glowing Xbox logo. Michael had to figure out a way to make it glow while also having it work as a push button. It was never a hindrance to him because after a bit of brainstorming, Michael was able to figure things out.
This was recorded as a Guinness World Records title for which he says, "It means a lot! I've worked really hard making this build as accurate as possible, and having a Guinness World Records title would really be a cool way to end this project." 
The community is extremely enthralled by this record-breaking project and has the following things to say. Seems like some of them can't stop comparing it to a fridge, yet again!
but can i freeze a casserole in it

— 🏳️‍⚧️ Joanna Blackhart – Sliding Scale🏳️‍🌈 (@JoannaBlackhart) June 22, 2022
When do they come available for preorder?

— Corey Trice (@Corey141) June 22, 2022
I bet the fans in that thing could take me to the moon.

— Unemployed Checkout Dog (@CheckoutDog) June 22, 2022
Can you just give me full size fridge.

— Rob 𓃠 (@Robcat99_) June 22, 2022
I actually laughed at this. I was already contemplating buying an Xbox Series S just so it could be easier bringing it with me on vacation. Imagine trying to bring this thing 😂

— Brezo (@baller_bre) June 22, 2022
ADVERTISEMENT
Article continues below this ad
Question: Does it work just like a regular sized Xbox Series X?

— Jamie Penningh (@JamiePenningh) June 22, 2022
That would heat up my room so fast

— Blaze81gg (@blaze81gg) June 22, 2022
ADVERTISEMENT
Article continues below this ad
So, what do you think about this record-breaking creation? Let us know in the comments.