Chivalry 2 Announces Pre-Order for Xbox Owners and Reveals Dates for Closed Beta
Published 03/31/2021, 3:27 PM EDT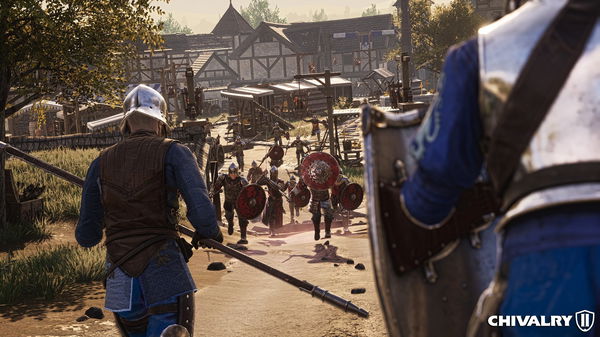 ---
---
The highly aniticipated medieval combat title Chivalry 2 has announced pre-order for Xbox owners. In a series of tweets, Torn Banner Studios has also revealed dates of closed beta for the same. This title serves as the follow-up sequel to 2012's successful PC game Chivalry: Medieval Warfare. This will be the second iteration of the franchise that is going to take advantage of modern-day technology. It will offer seamless cross-play across all three major platforms.
ADVERTISEMENT
Article continues below this ad
The game will release on June 8, and it will be available across Xbox, PC, and PlayStation. Pre-ordering the game will grant you special access to the closed beta, which will take place from April 23 to April 26, 2021.
ADVERTISEMENT
Article continues below this ad
Xbox pre-orders now live: https://t.co/7ZrwKjm2Bz
PlayStation pre-orders coming very soon!

Pre-purchase on any platform for guaranteed access to the Closed Beta, April 23-26!

Delve into the motivations of the Agatha Knights and the Mason Order with two new trailers…

— Chivalry 2 (@ChivalryGame) March 31, 2021
Developers of Chivalry 2 also released 2 more trailer videos
The developers have also shared two interesting video trailers about warring factions of the game. This first-person medieval combat title will be set in an era where two rival factions in the Masons and Agatha are constantly at each other's throat. These clans have a serious agenda against each other, which will throw you into a war, where you must pick a side. In the two released video trailers, the studio has shed light on the backstory of each side, and what motivates them to wage war.
The first trailer will take you down memory lane to where it all began for the royal family. The Agatha dynasty is a royal family that brandishes a lion on their flag with gold and blue colors.
In the great war against Mason's order, the royal family lost control of its land and has fallen under the rule of the rival order for over 20 years. It is up to you to take on the Mason order and restore the royal family's honor.
video source: PlayStation
The follow up trailer for the Mason order sheds light on their story and why they took up arms. The army of the red and black order grew tired of the rule of the royal family. Under the leadership of General Malric, the order managed to overthrow the royalty. It paved the way for the order to produce a powerful kingdom in the two-decade-long rule, which must take on the resurgence of Agatha Family.
ADVERTISEMENT
Article continues below this ad
video source: Xbox
Now, with the stage being set, and pre-order being rolled out, which side will you take? The royal family, or the ruling nation of fighters in the Mason order?
ADVERTISEMENT
Article continues below this ad
Trending Stories