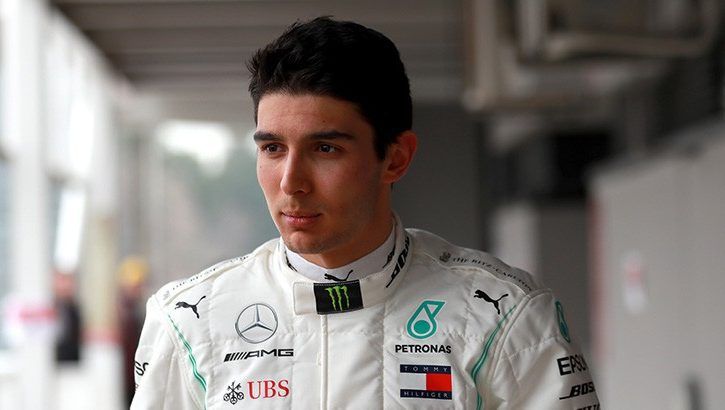 Esteban Ocon says he wasn't aware of his former side Mercedes' development of the highly talked of Dual Axis Steering (DAS). Mercedes who have won every single driver's, as well as constructors title for the last 6 years, introduced the DAS during this year's pre-season testing. 
Ocon: Mercedes designed it after I left 
The Frenchman was Mercedes' test and simulator driver for the 2019 season. In conversation with France's Canal+, he maintains his ignorance over the development of this unique feature giving readers a glimpse of the German team's secrecy. 
The Mercedes test driver moved to Renault in the offseason to replace Nico Hulkenberg. As a result of this deal, Ocon was unable to enter the Mercedes factory near the end of the year. He says that he wasn't shown the system whilst part of the team. These comments reveal that Mercedes must have kept this under wraps with only those who had contracts for 2020 being aware of the development.
Ocon says they may have come up with it very late and designed it after he left. But it seems unlikely that this game-changing technology was a spur of the moment decision. This indicates that it was concealed from him whilst he was allowed to visit the factory. He hinted at Mercedes cleverly concealing the technology from him. However, he does not talk about pushing or pulling the steering wheel whilst testing with the team last season. 
What is DAS?
The Dual-Axis Steering (DAS) permits drivers to toe-in or toe-out their front wheel during a lap by a 10-degree angle. This helps them maintain a straight line as well as equalize tire wear. The FIA sees this as a game-changer providing one constructor with an unfair advantage and prohibited its use for the next season. 
Mercedes, who along with the other teams will reuse the 2020 chassis for the 2021 season will have to revert to non-DAS steering. They do have the entire 2020 season to capitalize on with the technology. However, it remains to be seen when the races will resume with Azerbaijan being the latest race called off. 
Maybe the DAS was a spur of the moment decision. What's sure is that the imperious Mercedes have strengthened even further. They will be raring to go once the season finally flags off.