Euro 2016: Croatia's multi-layered march to glory
Published 06/23/2016, 3:59 AM EDT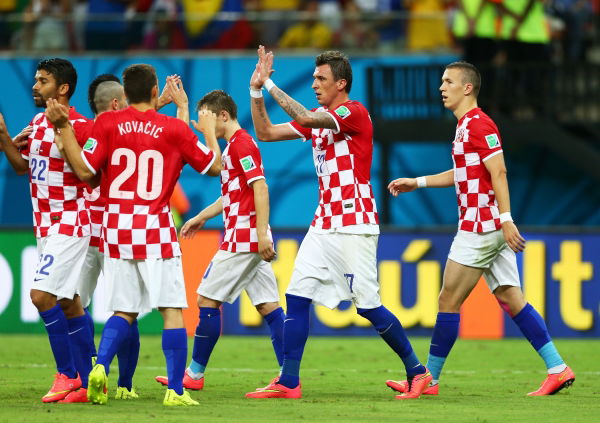 Euro 2016 has been a funny old tournament so far. Strikers have underperformed, midfielders have taken centre stage instead. Grit has been rewarded, unfancied sides have won hearts. Teams have been circumspect, patience has been a virtue. There have been several late goals, but not many overall to write home about.
ADVERTISEMENT
Article continues below this ad
In that sense, this year's European Championships are the quintessential modern tournament. The competition where trying to win is eschewed in favour of trying not to lose. The expanded tournament has brought into the spotlight a number of teams who don't have the personnel or the luxury to play glorious, expansive football. Some have become the tournament darlings despite their limitations. Just ask Iceland.
Another way Euro 2016 mirrors present day, top-level European football is the nature of play. On Tuesday evening, in the 87 minute, Croatia took a sum total of two passes to cover eighty yards in one searing counter attack that produced a late winner and sent the Croats to the top of their group ahead of their fancied opponents Spain.
ADVERTISEMENT
Article continues below this ad
It was a result achieved in absence of star playmaker Luka Modric, who was fresh off a second Champions League title in three years and already shaping up to be one of the tournament's bright sparks.
This is where Euro 2016's parallel with European club football becomes even more apparent. It is the midfielders who are star turns. And the Croatian midfield boasts plenty of them.
Modric strode around the pitch with an imperious swagger that belied his five feet and nine inches. It was not merely his overwhelming sense of control (sample Croatia's implosion after he departed the field in the 2-2 draw with the Czech Republic) but also his classy, silken edge and his wonderful intelligence of movement – subtle, precise and capable of finding gaps where none seem to exist.
Add to this his sumptuous 25-yarder in the opening game against Turkey – a match-winning volley – and it is easy to see why Modric has won plaudits.
Modric, however, is just one man. Ivan Rakitic is another, and although the Barcelona man wasn't quite at his absolute best against Spain, who were, no doubt, acutely familiar with his game, he remains a threat.
Ivan Perisic was the scorer of that late goal against Spain, set up by Nikola Kalinic, whom he also set up for Croatia's first goal. Kalinic broke Spain's run of 733 minutes without conceding at the European Championships, which began after they conceded to Italy in the opening game of Euro 2012. Now, thanks to Croatia's rank insubordination towards Europe's 'old' aristocracy, they are now set to face the same side in Paris.
Croatia, meanwhile, are scheduled to face a third-placed side in Lens. Their efforts seem to have given them the edge to reach at least the quarter-finals, although it is unwise to make early judgements in football. Aside from the midfield trio of Modric, Rakitic and Perisic, there is Kalinic himself, plus Mario Mandzukic, formerly of Bayern Munich and presently of Juventus. There is also Darijo Srna, veteran of 133 caps, while Vedran Corluka is a name familiar to viewers of the Premier League.
ADVERTISEMENT
Article continues below this ad
It is a talented squad, no doubt, and they stand a chance of making the second knockout phase at least. Comparisons have been drawn with the last great Croatia side, the touring party sent to the 1998 World Cup, coincidentally also in France, which reached the semi-finals. The class of 2016 have this symbolic weight on their minds, no doubt, and so far look to be making good on those expectations.
But although they have had the backing of a truly passionate and enthusiastic support, the same support provides a startlingly bleak and troubling backdrop to Croatia's march towards glory. In the 2-2 draw with the Czech Republic, Croatia were 2-0 up and cruising, when a section of Croatian fans flung a flare onto the pitch and began fighting among themselves. They were, as it happens, protesting against the corruption and self-interest perpetrated by the higher ups in the Croatian Football Federation.
ADVERTISEMENT
Article continues below this ad
Such is their disdain for the president Mamic and Davor Suker, Croatia's all-time top goal scorer and one of the stars of the 1998 campaign, that fermenting crowd trouble and securing an inglorious exit for their beloved Croatia is preferable. Sadly, a €100,000 fine and a ban on ticket sales imposed after proceedings were held up in the Czech Republic encounter thanks to their behaviour seems a small price to pay if it leads to Croatia's eviction from the tournament and the ouster of Mamic.
And so, it is under this delightfully complex cloud of hope, mistrust and some football that Croatia prepare for the knockout rounds and their pursuit of glory. The supporters who wish only the best for Croatian football have their hearts torn, but the players have a steely-eyed focus. Reprise their group stage performances, and Croatia could go a long way in Euro 2016.