'Why Is It Called Claret Jug?' – Major Details About the Open Championship Trophy
Published 07/18/2021, 11:48 AM EDT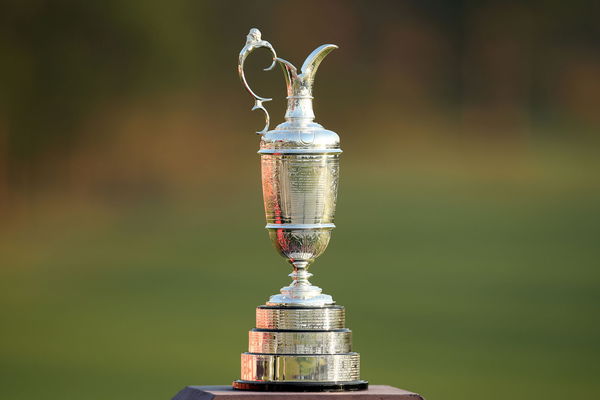 ---
---
The claret jug, a trophy given to the winner of The Open Championship and is probably the most famous prize. Moreover, it is the dream of every golfer to win this prestigious trophy at least once in his career. But they did not originally award it to the Open Championship winner. 
ADVERTISEMENT
Article continues below this ad
The first Open Championship winner in 1860 received the Challenge Belt. The belt was made of wide, red Morocco leather and adorned with silver buckles and emblems. So if a player won the championship three consecutive years, he could own the belt. And young Tom Morris did that in 1868-1870 and kept the belt with him.   
ADVERTISEMENT
Article continues below this ad
History of claret jug, the Open Championship trophy
Meanwhile, there was no event contested in 1871 as there was no trophy to present. But the three clubs hosting The Open Championship finally made an agreement. "They decided that the Champion would receive a medal and that each of the three clubs would contribute £10 towards the cost of a new trophy, which was to be a silver Claret Jug, instead of another Belt. Its proper name was to be The Golf Champion Trophy." 
ADVERTISEMENT
Article continues below this ad
The claret jug made by Mackay Cunningham and Company of Edinburgh was first awarded in 1872. But unfortunately, it was not presented to winner Tom Morris. The trophy wasn't ready, so while Morris's name is first on the trophy, Tom Kidd, the 1873 champion, was the first golfer to receive it. 
They gave the original trophy to the players through 1927. But in 1928, the winner received a replica and the original claret jug. They kept the original trophy for a permanent display at the clubhouse at St. Andrews along with the original championship belt. 
And champions through the years continue to receive the replica trophy, on which they engrave their names. However, the winner gets to keep the trophy for a year before returning to the R&A upon the conclusion of their reign. It is also interesting to note that champions receive their replica to keep.  
ADVERTISEMENT
Article continues below this ad