"Everything is pre-destined. PWL is the best league after IPL"-Annurag Batra
Published 01/14/2017, 5:32 AM EST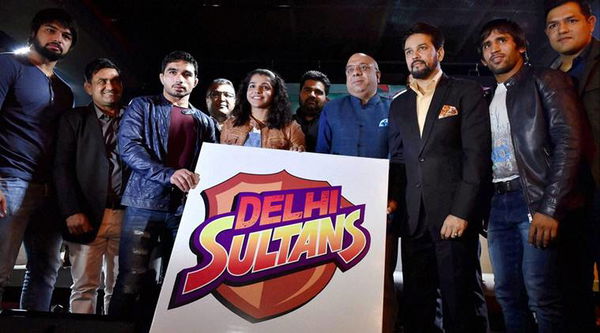 ---
---
"Everything is pre-destined. PWL is the best league after IPL"-Annurag Batra, BusinessWorld and Delhi Sultans owner. 
ADVERTISEMENT
Article continues below this ad
Annurag Batra, the owner of the Delhi Sultans team of the ongoing Pro Wrestling League and Chairman and Editor-in-Chief of BusinessWorld is a media mogul and a passionate entrepreneur. In 2013, he took over BusinessWorld, one of India's most respected Business publications and expanded it into Digital media, Events, Digital marketing and many more such ventures which took BW to new heights. Being one of the most revered names in the media industry, he has been a constant source of inspiration and guidance for beginners like us who look up to him as a shining example.
He is also appointed by the Government of India as the Chairman of an industry committee formed to come up with vocational training framework for the media, communication and entertainment industry. His work continues to motivate the people around him and Essentially Sports was lucky to have the chance to talk to him about his team, sports, the media and much more.
ADVERTISEMENT
Article continues below this ad
Here are the excerpts from the interview:
Question: You have recently become the owner of the Delhi Sultans team. How has your experience been?
Answer: I may not seem fit, but I am very agile. I cleared the NDA and hence have always maintained my fitness. I want my kids to do well in sports. Sports really means a lot to me. There are a lot of things common in sports, business and entrepreneurship.
First, is the never give up attitude.
Second, is that always the best emerges victorious.
Third, you have to be really passionate about what you do.
This is what really brings me here. This is an investment and if my team is able to prepare two medallists, I'll reap all the benefits. Wrestling as a sport is growing tremendously. The league is being organized in the most professional way. We had 40 Olympians when we were bidding and we have 11 of them here. You have seen the calibre of the players. You have seen how it looks on the television. There is incredible support here and this is only the second season. Add to it the effects of demonetization and inspite of it, the sponsors have come forward wholeheartedly. It really augurs well for the sport and I am extremely optimistic about the Delhi Sultans.
Question: Sir, you have started with wrestling. Do you plan to advance towards other sports like kabaddi, boxing, badminton or tennis?
Answer: Ever since we acquired the ownership of the team, there have been talks from various other leagues. There is a super-fight league coming up. Bill is a great friend of mine and we have been in discussions over the last 3-4 years.
In my opinion, this league is probably the best after IPL. The way it is being conducted in accordance with all the international norms is impeccable. The league's strength is the unparalleled quality of players. Some other leagues, and I'll take names – ISL hasn't done well. The quality of the players could have been better. So, if there is any league, which is done professionally with top-tier talent, I will go for it. Maybe acquire a franchise or any which way possible. That's the criteria.
Question: You are a media mogul, Sir. Media holds the direct link between the sportspersons and the followers. Can you elaborate on this role and what the media needs to do better?
Answer: See, the media holds the key because it creates heroes. For instance, we have a silver medallist in my team – Maria Stadnik. She's a star. Sakshi is a star. But everyone wants to have a selfie with Sakshi because the media has highlighted her immensely. Nobody knows Maria here. She has won all her matches here. Her performance and track record is terrific.
The media builds icons. Media has built expectations from the sport. So, certainly the media plays a very important role. However, today media is not just limited to mass-media. It is digital, it is blogs, videos and what not. Players can directly reach out to their fan base through their twitter handle. Technology allows you to directly interact with fans and it's a great thing.
I hate it when we lose. But I did tweet that Sandeep Tomar defeated our international Olympian and we lost the match because of that. But, at least you know maybe tomorrow Sandeep will go on and win a medal. What better achievement can there be for us?
ADVERTISEMENT
Article continues below this ad
Question: This is PWL's second successful tournament. Even our athletes are performing beautifully. Everything is falling in place for wrestling. Can there be a more exciting time than this?
Answer: You know, I really believe in God's plan, in the universe bringing things together. Everything is predestined. Dangal and Sultan have released and the fans have enjoyed watching the sport. It all really augurs well for the sport of wrestling and for its athletes as well.
ADVERTISEMENT
Article continues below this ad
But at the end of the day, it really is all about the players and their performance. The quality has been top-notch. We have rockstars on the mat here. There are 240 akhadas in and around Delhi. In South, wrestling is very popular. So, it creates an interest in the game and what better than achieving this goal. I had recently received a request from a budding wrestler who wished to be a part of the team. I have called him here and we'll soon review him as well.
We would like to thank Annurag Batra and the Delhi Sultans for providing us with this fantastic opportunity and sparing their valuable time for this interview.