EXCLUSIVE: Hubert Hurkacz Opens Up About His Love For Roger Federer And Long Term Goals
Published 05/22/2020, 5:26 AM EDT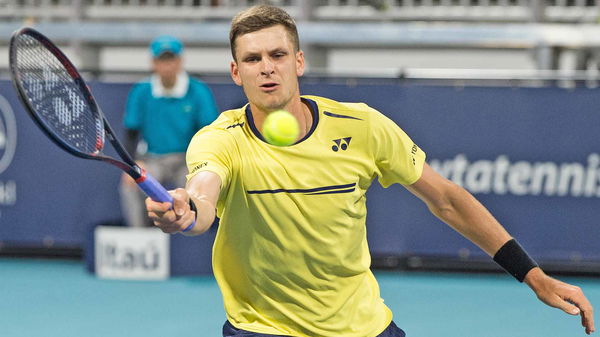 ---
---
Every year a new tennis superstar knocks on the doors of success and we get a glimpse into the future. In 2019 this tennis star was the Polish newcomer Hubert Hurkacz.
ADVERTISEMENT
Article continues below this ad
The 23-year old broke through some barriers to revive Polish tennis. His performances in some top tier tournaments like the Indian Wells and Miami Open certainly made some heads turn. With tennis on a hold, Hurkacz is looking to use this time to create a new version of himself who can achieve a greater winning rate than he already has.
The world number 29 talked to EssentiallySports in an exclusive interview in a continuing series of our efforts to bring to you the best of tennis in the quarantine times. He discussed a varied range of topics from the coronavirus lockdowns to his future goals as well as his idols. Let's get to all these things one by one.
ADVERTISEMENT
Article continues below this ad
How is Hubert Hurkacz getting through the lockdown?
The lockdown has been tough on tennis players. They haven't been able to get some much-needed practice. However, Hurkacz is lucky in this regard.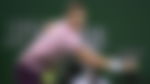 "So, I was fortunate to stay in Saddlebrook resorts where we are able to use their gyms and practice courts. So I was fortunate to have my coach by my side and obviously we are trying to work on some things so we have plenty of time to do it. And yeah we are trying to use this time to get better."
Interestingly, Hurkacz is not back in Poland. He is instead stuck in the USA since the time he came to participate at the Miami Open. That's why he's currently in Florida but the decision was also partly deliberate.
"So after Indian Wells, we thought that we can come here and prepare for Miami Open but as it got canceled, we only had like 24 hours to decide whether I'm going back to Europe or am I going to stay here. So we figured out that this might be a good option to stay here for a while and be able to practice."
How was it like playing at the unique UTR Pro?
The UTR Pro was different for two reasons. First, a player only needed to win four games to claim a set. Secondly, it was played behind closed doors due to the coronavirus crisis.
"Yes that was great obviously when you practice a lot, you kinda want to do something different. And to be able to compete with really good guys, great players, that was a lot of fun and I enjoyed it a lot."
He also revealed his emotions on having to play behind closed doors. He feels that's not really the kind if tennis he wants to be a part of. The spectators are really the soul behind the sport at all points.
"Well I hope not. I mean it was fun to compete  against players when it was under live stream so but I mean when the spectators are here, the crowds are enjoying the matches and watching them, they give an extra boost of energy and its definitely more fun."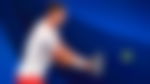 His feelings on the ATP Cup and representing Poland
The ATP Cup saw a huge presence of Polish fans. Their team didn't disappoint as Hubert Hurkacz unleashed his inner monster defeating three higher-ranked players in Dominic Thiem, Diego Schwartzman, and Borna Coric. Hurkacz shared his views on this tournament which would be a rarity in 2020.
"Yeah I mean that was really great experience for me, playing for my country with all the guys there from Poland. And obviously we enjoyed really great support. That was a special event, taken for the first time there. And I really loved the way it worked out in the end. Obviously, we couldn't go through the group stage, but it was definitely a fun experience."
Gearing up for the Olympics
Hurkacz played some doubles with veteran player Lukasz Kubot at the ATP Cup. The plan was to maintain the partnership for the Olympics. However, the postponement has led to some major road blacks for them.
"Yes so that was the plan to practice some doubles with Lukasz obviously. He needs to teach me a little bit more coz I'm still not really good at that. But that was a really good experience, I mean Lukasz, unbelievable person and player. He won two grand slam titles and was number one for a long period of time so playing doubles together with him is special."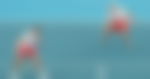 He maintained that the postponement of the Olympics to 2021 is only a good thing. This gives him more time to prepare. That ultimately means a better chance to win a medal for his country Poland.
"No I mean this only gives us more time to prepare for the Olympics. I think next year I'll be a better player than I am this here. I mean that's what we are trying to achieve. To get better every single year, to improve some things, so this might be giving more chances."
"So I mean Lukasz is supposed to play mixed doubles there and I'll focus on singles and doubles."
Working with coach Craig Boynton
His partnership with Craig Boynton has worked wonders for him. He started out with him before the Indian Wells and the tournament turned out perfect for him. He made it to the quarterfinals defeating giants like Kei Nishikori and Denis Shapovalov along the way.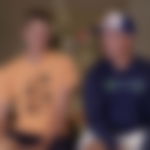 "Obviously, I started work with Craig in March and that was something special. He's an amazing coach and he has huge experience being on the tour for so many years. A super nice guy so working with him gives me a lot of mental confidence and also like he has a long temperament. We can improve in the game and it's a huge benefit for me working with him. We had like a really good start at the Indian Wells and then like I started to believe more in myself that I can win bigger matches. And slowly I think I'm improving."
"Yeah I mean it started out quite amazing as I made my best results at the Indian Wells. We immediately clicked together without any trouble with communication. We just clicked really well and since then it's very good."
Facing Novak Djokovic at Wimbledon
He came out with his best-ever grand slam performance at Wimbledon. Hurkacz made it to the third round before eventually falling to Novak Djokovic in four sets. He described his ability to play against the big players.
"Yeah, I mean that's really something nice. I mean winning the first title motivates me to win bigger ones and gives me confidence that I've already won it and if I improve some things I can do even better and also it's nice to inspire other people, especially from my country to play tennis as it's a really great game. And yeah, hopefully have a better rate of success than me."
"Yeah I mean I love playing on the bigger stage. So like I enjoyed, even more, when I play against top seeds. Hopefully in the future it will happen later in the draw and not in the beginning. So I was dreaming about keep playing tennis, to play on the biggest stage in front of the biggest crowds."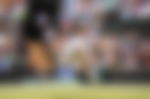 Mastering the "Hubert dive shot"
Hubert Hurkacz has made quite a reputation as a diver. When you have something like that in your armor, the opponent can't really count you out. That's what Hurkacz did with his game against Novak Djokovic.
"No I mean that was like always enjoying grass courts when you play on the hardcourt or clay court it's probably better not to dive as when you're falling down from the dive you can scratch yourself, on the grass, it's pretty comfortable. Sometimes, trying to get to a ball which is pretty far away, you just have to do it."
When did he first start to play tennis?
Hubert Hurkacz had his initiation to tennis at a very young age. Hurkacz comes from a family of athletes. His mother, Zofia Maliszewska-Hurkacz was a junior tennis champion back in Poland, both his uncles were tennis players, while his grandfather was a volleyball player at an international level.
"So I was like around 12-13 years old when I decided to play tennis. Since then I was trying to do a lot of things to improve my game. I was having a lot of fun and I mean was always like a competitive person so I loved "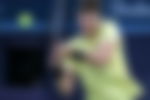 His unique schooling also eased the process.
"I had an individual learning so I didn't have to go to school every day. I just had to pass the exam from each subject. So it was different, I wasn't spending much time at school. For me it was easier to focus on the subject than learn everything and ho for an exam. So that's how I managed school and yeah I was spending a lot of time on practice courts."
Idolizing Roger Federer
Like all the young boys who have grown up watching Roger Federer, Hubert Hurkacz has worshipped the Swiss maestro. His mother had once revealed that the Polish star idolized Roger. This is what Hurkacz had to say.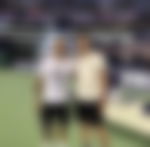 "Yeah, I mean Roger is an amazing person. The way he plays is pretty unbelievable. So the way he hits the ball and the shots he selects, it's tough to implement the things he does on court. But obviously you can learn from him a lot."
Playing the tweener
This shot is quickly gaining legitimacy despite originally starting as a rare trick. Hubert Hurkacz reveals that he's actually practicing the shot. His coach is behind wanting him to perfect a shot before he even attempts it.
"Actually I was. My coach Craig here didn't want me to do this shot. So I was doing a drill here, practicing this shot and he would tell me that you're missing almost all of them. That was actually the best I played in over two months."
ATP-WTA merger
Of course, we asked him about the hottest topic in tennis. His answer was in the affirmative. He is not too sure about the details but likes the idea.
"Yeah I think it can help tennis to grow as a sport. I don't know all the details behind it but it's a great idea and it can work very well."
The crisis of the lower-ranked players
Hubert Hurkacz expressed his sympathies with those bearing the brunt of tennis stopping. He believes that the fund being created is important.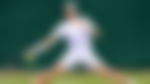 "Yeah, obviously it's tough especially for the lower-ranked players. They play some tennis leagues to get money to be able to travel and play. So it's really good that ATP and WTA are trying to create a fund to help them coz they are obviously loving tennis and trying to get as good as they can but now at a certain state of their careers, they need to play some tournaments to improve their rankings."
When will tennis restart?
While everyone gives you bad news about this question, Hurkacz is actually one of the positive ones.
"I'm positive about it, hopefully, we'll be able to play a few tournaments before the US Open and then the US Open. Soon you'll know more about it but I'd love to play some tournaments again."
"For now, not really but maybe in the near future I'll play some exhibition matches but we'll see."
Some questions on the Big 3
We started out by asking him some questions from his fans around the world on social media.  Tennis fans wonder whether he thinks the Big 3 dominance will end in the near future.
"I hope it might be coming soon. Obviously, Rafa, Novak and Roger, they have like unbelievable achievements winning all those grand slams in the last years but I mean the young players are not as experienced as they are but they are trying to improve their game to maybe start stealing the titles from them."
EXCLUSIVE – Noah Rubin Brings a New Perspective to Tennis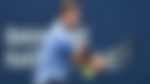 There's no easy going out of this question. We asked him the players who could actually break this dominance.
"Well, I don't know. Hopefully I will improve some aspects and I'll be able to have deeper runs in the slams. Already Dominic lost a couple of times in the finals, Daniil Medvedev, Tsitsipas, Zverev those are the guys who have made the results so far."
The next question was interesting. Fans wanted to know the most difficult out of three situations for him. Beating Roger Federer on grass, beating Novak Djokovic on hard courts, or beating Rafael Nadal on clay.
"Well, I mean it's probably the toughest to beat Rafa on clay court. Especially at the French Open, that would be so etching special especially my game which is not suited for the clay-court obviously I grew up playing in clay courts but my game is better suited to faster pace."
Views on India
Hubert Hurkacz actually came to India to play in Pune at the Maharashtra Open. He wasn't able to achieve much but liked the country.
"It was nice. I really enjoyed the great restaurants and hotels and food. The event was great, obviously, I didn't play well so unfortunate but I mean I enjoyed being there and playing the tournament."
EXCLUSIVE – Alize Cornet Opens Up On Serena Williams Victory And ATP-WTA Merger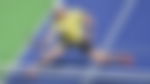 His long term career goals
He is obviously destined for great things in the future. However, we wanted to know if he had a road map in mind. This is what he replied.
"Well, I mean the long terms are basically to improve my game. Start playing maybe a bit more aggressive, come to the net maybe more often. Improve my game and we'll see what results will come."
What does he want to improve in his game?
He was pretty solid on this as he said that he's too ambitious. He would pretty much want to improve everything. That's certainly the sign of a hard-working player who's not content with his current position.
"Well, everything. I mean basically can improve every aspect of my game. My serve can get much better than it is now. Baseline game, volleys so everything needs improvement."
His perfect player
Hubert Hurkacz took the task of creating the perfect player.
"I'll go with John's serve, Novak's return, probably Roger's forehand, and backhand could be Novak's as well. Footwork would be Gael Monfils, volley Roger as well. Mentality would be Roger, Rafa."
ADVERTISEMENT
Article continues below this ad
Message to all his followers
He wanted to put out a message to his fans. This was regarding the pandemic. He urged everyone to stay safe and keep exercising always.
"Yeah, I mean to always stay positive, try to always stay fit. Exercise a little that gives a boost of really good energy. Improve the health of the body and stay positive, try to enjoy the things that you can."
ADVERTISEMENT
Article continues below this ad