Exclusive Interview with Luca Marini
Published 04/24/2018, 5:37 PM EDT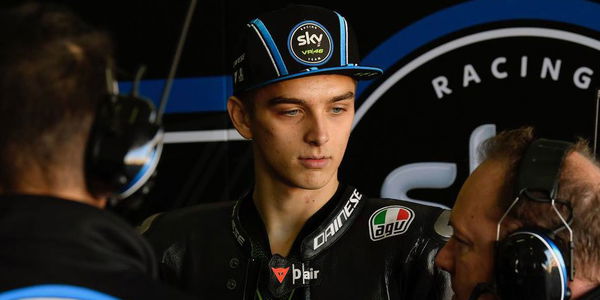 ---
---
Italian rider Luca Marini is probably better known as the younger half brother of MotoGP legend Valentino Rossi. He debuted in Moto3 in 2013 riding for the Twelve Racing team as a wildcard for the San Marino GP. Two years later, he debuted in Moto2 with the Pons Racing Junior team, again as a wildcard. In 2016, he made his full-time debut with the Forward Racing team.
ADVERTISEMENT
Article continues below this ad
As of the 2018 season, he is racing for the Sky Racing Team VR46. With 3 races done and dusted, Luca Marini has 2 points finishes. Namely 9th in Qatar and 13th in Austin, while he finished 16th in Argentina. His best finish was in 2017 at the Grand Prix of the Czech Republic. Essentially Sports recently reached out to Luca Marini for an interview.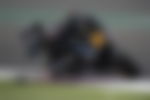 Q1. Before joining Moto2 full-time in 2016, you have just had one race in Moto3 and one race in Moto2, How did you gain experience till then?
ADVERTISEMENT
Article continues below this ad
Actually, compared to other riders, I had a different path of growth. I debuted directly in Moto2 in 2016 after only two races as a wild card in Moto3 and Moto2. The first year was tough: I had to gain experience, gather information. Compared to the CEV, the level of the World Championship is higher: there are the best factories, the best riders and teams. It takes time to understand, to adapt to the rhythms and take the pace. Today, after two years, I have learned many things thanks to hard work and I am sure this third year with the Sky Racing Team VR46 will reserve me some nice surprises.
Q2. On the subject of the 2 wildcard races, prior to your full-time debut, what was the difference between the 2 bikes?
There are several differences between the two bikes. Weight, power, riding style and tyres. The level is high in both categories, but in Moto2 there are much more experienced riders. In Moto3, there are many young guys, who have to grow up and still do not know exactly how to manage the races. In Moto2, many of the competitors are riders at the Top of their career with many years of racing behind them.
Q3. How much of your half-brother Valentino Rossi's influence rubbed off on your career?
I am sincere, at the beginning of my career he did not affect me. When I started racing with pocket bikes I was 4 years old, I had no idea what Vale meant for this world. For me the races were a game. Later, when I decided to start competing more seriously, he was very helpful. Having a person with his kind of experience by my side has no value. He helped me to make the right decisions, find the confirmations I needed and today thanks to him I turned my passion into my job. Without taking away the fun that remains an important part of our being riders.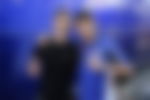 Q4. Have you ever faced any pressure to emulate Valentino's success?
ADVERTISEMENT
Article continues below this ad
I have never felt a particular pressure due to this fact. I am a rider like the others, I feel the same emotions of others. I do the things I like without pressure, I do not see why I should have more pressure. We all want to win, we are all hungry to win.
Q5. In 2019, there will be an all-electric class introduced called Moto E, What are your thoughts on electric racing as a concept?
ADVERTISEMENT
Article continues below this ad
If I think of my future, it's not in my plans. I want to give my best in Moto2, collect results and dreaming on MotoGP. The birth of MotoE class reflects what is happening in the two-wheels market. New technologies, new companies and a new type of project that looks to the future. It is still early to understand the real potential of this Championship, but the future is in that direction and with time these new kind of bikes could be a reference.