Gianluca Mager had a fabulous week at the Rio Open as he made the final of the ATP 500 event. He lost the title match to Cristian Garin, but it was a commendable effort nonetheless. Nick Kyrgios, though, doesn't really seem to think so.
Mager made the first final of an ATP 500 event, beating Dominic Thiem 7-6(4), 7-5 on his way. Beating the Austrian on clay is worthy of praise in itself, given Thiem is surely the second best player on clay after the King himself.
But Mager also made an astonishing jump in the ATP rankings after his run to the final in Rio.
Ranked World No. 128, the Italian has now jumped ahead to the World No. 77 spot. This huge bump in his ranking puts Mager ahead of the likes of Frances Tiafoe, Vasek Pospisil, Pierre Hugues-Herbert and Alex Popyrin.
Nick Kyrgios rips into clay court event
A twitter user named Ricky Dimon pointed this out after Mager's semi final win in Rio.
Gianluca Mager is in the final of a 500-point tournament, and he's in tears on his chair.

I'm in tears realizing that Gianluca Mager will be No. 77 in the world tomorrow. Ahead of Herbert, Tiafoe, Pospisil, Popyrin, and too many others to name.

— Ricky Dimon (@Dimonator) February 23, 2020
A commendable effort by the Italian and a rightful reward for his showing at the event.
However, not everyone thinks so. Many said that the clay tournament amidst the hard court season was unfair. Others said Mager wasn't worthy of jumping ahead of these names in the rankings.
Among them was a certain Nick Kyrgios too. The Australian player was definitely miffed at the news, possibly because of his bond with Tiafoe and compatriot Popyrin.
Kyrgios first replied to the tweet asking,
"How many wins on hard court and grass court has he had?"
A bit harsh by Kyrgios. He may not be a fan of the clay courts but that hardly justifies bringing down another players' achievements. Someone should ask the man how many clay court titles he has won.
Kyrgios himself has a total of 6 titles (all on hard court), which is quite paltry given his talent. Half of those titles are ATP 500 and other half are ATP 250 titles.
He turned professional in 2012, about 9 years ago now. In those nine years, he has won three ATP 500 titles, but none bigger than that.
Nick, of all people, knows how difficult it is to do, and yet he has no qualms in making a snide remark at Mager's expense.
Another user raised a valid question too, and Kyrgios had a cheeky response for that one too.
Popyrin has made numerous 3rd round at grand slams 😂😂

— Nicholas Kyrgios (@NickKyrgios) February 23, 2020
But Kyrgios wasn't done. He further ripped into the clay event.
If you think having all these clay court tournaments whilst we are in the midst of the hard court season is good for the sport and the future of tennis continue to argue 🙏🏽

— Nicholas Kyrgios (@NickKyrgios) February 23, 2020
And if that wasn't all, he even posted this on social media.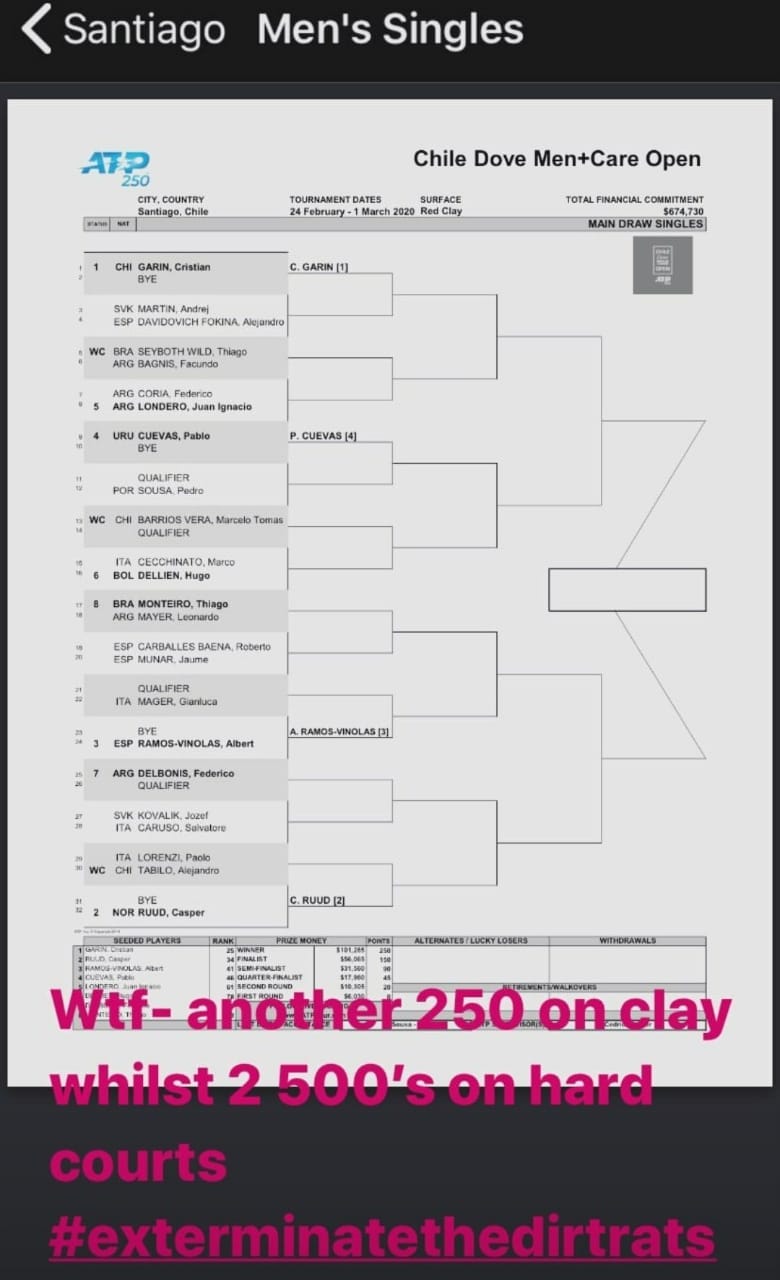 All this is on extremely poor taste by Nick. He sure has a problem with the clay courts.
Poorly done by the Aussie, whom I have been praising quite a lot these days, seeing a change in attitude in recent times.