F1 archives: Michael Schumacher's most tragic win, the 2003 San Marino Grand Prix
Published 12/16/2019, 9:42 AM EST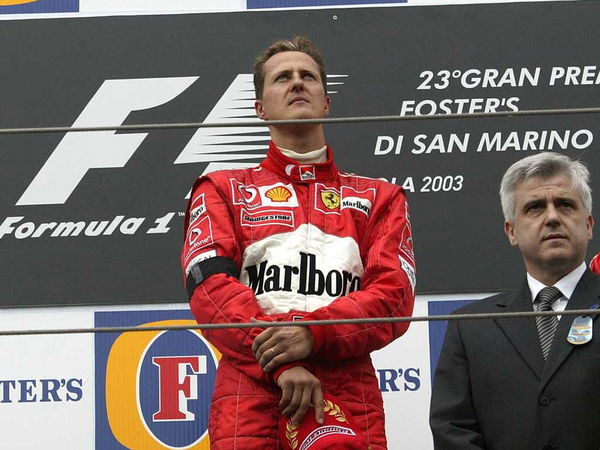 ---
---
It was the fourth round of the 2003 season, held at Imola, Italy. The Schumacher brothers- Michael and Ralf had locked the first two positions on the grid on Saturday's Qualifying session. Post the Qualifying session, both of them were flown in a private jet to visit their mother in Cologne,Germany. Michael and Ralf Schumacher's mother, Elisabeth Schumacher, was in a coma and suffering internal bleeding, reportedly after a fall at her home a week earlier. They soon flew back to Imola to take part in the race,Sunday morning.
ADVERTISEMENT
Article continues below this ad
On Saturday they had been asked how they could manage to race while their mother's life was in danger. "Please don't expect a reply," Michael said. They made no further comment. The organisers released them from the need to participate in post-race ceremonies.
Just hours before the race, Michael and Ralf were informed that their mother had passed away, leaving the two of them pretty much doubtful for the race. Contrary to everyone's belief, they did take part in the race, and despite the emotional trauma, both of them did very well. Ralf snatched the lead from Michael before the first corner itself before giving it up to Michael after the first pit stops. From then on, it was no stopping him, as he went on to win the race while Ralf just missed out on the podium, finishing fourth.
ADVERTISEMENT
Article continues below this ad
It was the first race victory of the season and  65th race victory for Michael Schumacher and surely the saddest as well. Michael was filled with tears as he took the winning trophy. No champagne was sprayed on the podium as a mark of respect. Both the Schumacher brothers left the circuit immediately after the race and Michael's place in the post race conference was taken by Ferrari team principal Jean Todt.
ADVERTISEMENT
Article continues below this ad
It was a mark of a true champion. It is very wisely said that the best athletes in the world are those who are willing to push harder than anyone else, and go through more pain than anyone else.
Read: Most remarkable moment from Michael Schumacher's career
ADVERTISEMENT
Article continues below this ad
It was a big setback for Michael, and it was a big thing indeed to still come out and race. Such a passion for the sport proves just why he went on to win 7 championships and secure 91 race wins.