Lando Norris' Helmet Takes Over Michael Jordan's Signature Dunk as F1 Fans Drool Over Miami GP Lid
Published 05/06/2022, 8:17 AM EDT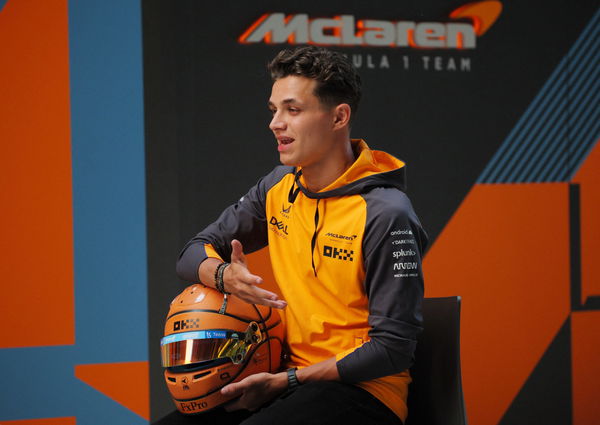 Formula 1 helmets might be one of the coolest things ever! The skill that goes into designing and manufacturing these exceptional helmets is truly amazing. Formula 1 drivers also customize their helmets according to the venue of the race or share a message and spread awareness.
ADVERTISEMENT
Article continues below this ad
As we move to Miami this week, a handful of Formula 1 drivers have decided to ditch their regular headgear for something a little more eye-catching. Moreover, the helmet designers have sprinkled their creativity all over the helmet. The theme, of course, is Miami's stunning backdrop and some references to the country.
ADVERTISEMENT
Article continues below this ad
Lando Norris, however, has taken one step further than the rest. His helmet is designed like an actual basketball. Yes, you read it right. The Briton this weekend has chosen to race with a basketball-like helmet and the details in the design are quite extraordinary. He has certainly embraced the occasion, without a doubt.
We certainly love it, and so did the fans, who took to twitter to express their views. Michael Jordan slam dunking Lando's helmet is a sight we did not expect to see this week. The Mercedes official twitter handle has clearly upped their social media game, without a doubt.
— Mercedes-AMG PETRONAS F1 Team (@MercedesAMGF1) May 5, 2022
Alpine joined in on the fun as well.
Other F1 drivers' creative helmet
Max Verstappen has unveiled a fresh design to his helmet, and it is magnificent! The Red Bull driver's helmet perfectly captures the essence of Miami. The design includes palm trees across the gear, and Verstappen himself revealed it was one of his favorites.
Meanwhile, Guanyu Zhou has taken the Space jam route. The popular animated sports film which features Michael Jordan is Zhou's theme for this week. And it is absolutely stunning.
Two-time world champion Fernando Alonso has stepped up his helmet game by adding beach, palm trees, and neon to the helmet. The rear of the helmet comprises a sunset-like element. Further, the Spaniard has also decided to spread a message in his helmet, which is to avoid plastic bottle usage.
Yuki Tsunoda's customized race helmets always look remarkable as well. Once again, the Japanese has not failed to deliver. And this time, even Mick Schumacher has also joined the party with another breathtaking helmet design.
ADVERTISEMENT
Article continues below this ad
ADVERTISEMENT
Article continues below this ad
These helmet designs and the details behind them are incredible, without a doubt. As Miami prepares itself to host its first-ever race, we hope to witness an action-packed week.
WATCH THIS STORY: Road cars inspired from F1 technology