When F1 Blue Flags Didn't Mean Much
Published 12/25/2017, 10:30 PM EST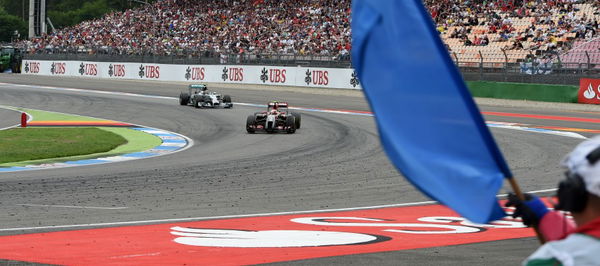 As we head towards more and more technological progress, we see that the F1 cars have become more and more aerodynamically strong and engineer dependent. A driver not only has to manage his tires now, but he also has to look after his brakes, his fuel, the temperature of his components etc. Before the 90s, things were much simpler. The cars weren't as fragile as they are now. They were reliable. It was less about engineer dependency and more about driver tactics. One particularly interesting thing that has changed, as we moved from the 80s to the present era has been the concept of the F1 Blue Flags.
ADVERTISEMENT
Article continues below this ad
Earlier the blue flags meant that a faster car is behind you, but it wasn't compulsory to let it pass. Most drivers let the car behind go through, out of good sportsman spirit, but sometimes it led to a very interesting chain of events.
One such race featuring such an incident is the 1985 European Grand Prix at the Brands Hatch circuit.
ADVERTISEMENT
Article continues below this ad
This race is more notably remembered for Mansell's first F1 victory. To make matters even sweeter, it was in front of his home crowd. It was also well-known for Alain Prost's first championship that came after he finished fourth in the race. )
The race had a frantic battle between Keke Rosberg and Ayrton Senna. Senna was on pole, followed by Piquet, Mansell and Rosberg. At the start, Mansell spun and Rosberg gained second place. Behind him was Piquet and then in fourth position Mansell.
Rosberg was going at Senna while he was defending robustly. In lap 6, Rosberg dived on the inside of Senna at Surtees, but Senna closed in as a result of which, Rosberg spun and hit Piquet. The Brazilian retired on the spot whereas luckily, Rosberg was able to move his car to the pits for repairs.
Rosberg was fumed as a result. He lost an entire lap and came just ahead of Senna-Mansell battling for the lead. As the rules didn't make it compulsory for Rosberg to move aside, he carefully stalled Senna and Mansell closed in on him and took the lead.
Rosberg then allowed Mansell to pass but kept Senna at realms. This allowed Mansell to create a big lead over the Brazilian and in return take his first ever Formula One race victory after 72 starts in front of his home crowd.
Rosberg, meanwhile, over the laps passed Mansell using his fresher set of tires, and took third by overtaking Prost. But more than that third position, what mattered to him the most was giving Senna a lesson for what he did.
ADVERTISEMENT
Article continues below this ad
Prost's fourth position sealed his first title as the other title contender Michele Alboreto's Ferrari had caught fire.
It is pretty difficult to imagine a situation like this in the present scenario, where the rules regarding the F1 Blue Flags are immensely strict. Backmarkers go to the extreme extent of literally going into the run-off area to let the front runners pass.
The rules regarding the F1 Blue Flags needed particular attention during the 90s. Hot air from the car in front started affecting the aerodynamics of the car behind. The cars of the present, in particular, are heavily affected if they get stuck up behind a car as Senna got stuck.
ADVERTISEMENT
Article continues below this ad
It's difficult to imagine how the rules and regulations have changed the course of racing over the years.
Are you a passionate Formula One enthusiast?
Then join the Facebook group, Formula One Fans for more interesting news and features!