"I've Not Really Learned Anything From These Guys": Record Breaking $740 Million Battle for Greatness Between Floyd Mayweather & Manny Pacquiao Left Lewis Hamilton Unimpressed
Published 09/28/2022, 4:28 PM EDT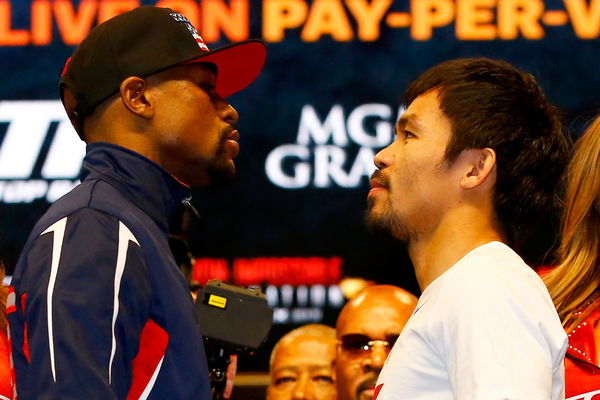 Sir Lewis Hamilton, not just spends his time racing on the circuits, but takes an interest in other sports as well. The Briton was at ringside for the biggest money boxing fights in history. He attended the Floyd Mayweather vs Manny Pacquiao welterweight title fight in 2015. The Mercedes driver feels that despite watching the game so closely, he did not learn anything.
ADVERTISEMENT
Article continues below this ad
Floyd dominated the fight with his tempo and distance control. Although Mayweather dominated the ring with his brilliance and won the fight with a unanimous decision, the Mercedes driver had a contrary opinion.
ADVERTISEMENT
Article continues below this ad
Was it an Unremarkable Night for Lewis Hamilton?
Lewis Hamilton was upset with the results and thought judges could have given a different outcome.
He said, "I was sitting in one of the best seats there, which was amazing. And then the fight wasn't really good at all."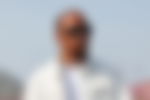 Talking about his learning from the Record-Breaking $738 Million Battle while manifesting a quick wit, the Englishman said, "I've not really learned anything from those guys, apart from they wear much bigger shorts than me."
F1's Billion Dollar Man joined the critics who chastised the fight. He said, "I felt that should have been the warm-up and then we are going to see the real fight but everyone left." 
Although the night wasn't the one Lewis expected, he did find someone resembling him.
It seems the Grand Saturday night could have been more enjoyable for Lewis if Pacquiao could have tackled the calculated moves by Mayweather.
Lewis Hamilton caught the similitudes with the "Mexicutioner"
ADVERTISEMENT
Article continues below this ad
Talking ahead of the 2015 Spanish Grand Prix about his experience of the historic fight between Floyd Mayweather and Manny Pacquiao, Hamilton said, "I felt Pacquiao won. He was the attacking one."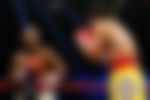 Relating more to the boxer from the Philippines, Lewis said, "I felt I had more similarities with him, watching his style, I was thinking he's the attacking guy, he's out there, he's hungry. He wants it more than anything."
ADVERTISEMENT
Article continues below this ad
Watch This Story: How Lewis Hamilton Became the Champ of Prisoners in Bahrain
Currently in P6, Lewis Hamilton is not having a prime season, although his teammate is having a dream run this year. The #44 car driver has been unfortunate on most occasions this season. Team Mercedes and his fans would want their roaring lion to make a strong comeback next year.
Edited By: Ranvijay Singh