Fernando Alonso Join Hands With UNICEF to Donate Masks in Spain
Published 04/01/2020, 3:21 AM EDT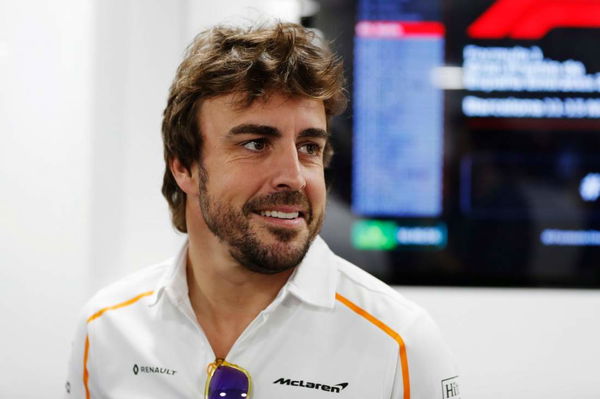 ---
---
Fernando Alonso has joined hands against coronavirus by making a donation to help the individuals who are fighting against the infection.
ADVERTISEMENT
Article continues below this ad
The COVID-19 pandemic has constrained different nations over the world to go into lockdown with the number of people who have died from the virus now over 39,000.
As of late, it was reported that seven Formula 1 teams would come together for 'Project Pitlane'. The project is to create equipment to help those fighting the coronavirus.
ADVERTISEMENT
Article continues below this ad
Furthermore, presently Fernando Alonso is doing his part to help by giving 4,000 sets of personal protective equipment (PPE) and 300,000 masks to healthcare laborers who are battling the infection.
Fernando Alonso doing his bit for Spain
ADVERTISEMENT
Article continues below this ad
In addition, Fernando Alonso fills in as an ambassador for UNICEF. The association released the gesture in a message of thanks posted on twitter.
After that, via its Twitter feed, UNICEF's message entitled 'Gracias Fernando' read:
"Thank you very much for your contribution that allows us to continue helping with the emergence of the coronavirus.
ADVERTISEMENT
Article continues below this ad
"With your collaboration, from UNICEF we can provide 4,000 – with images of the equipment and gloves – to prevent the spread of the virus. From the heart, thank you from all the UNICEF team."
In addition, the message added: "We want to thank our dear ambassador @alo_oficial for his contribution to help us continue to fight to protect those who protect us. Thank you for always being at the side of those who need us most!".
Alonso, 38, rushed to react in gratitude to the message posted by the association. Moreover, he accepted the open door to request donations from the whole Spanish populace.
Alonso said: "Thank you for the tireless work you always do, as in this delicate moment.
"With @unicef_es we have already purchased such urgent and necessary sanitary equipment. Any help is little, I encourage you all. From an SMS with "UNICEF" to 28028 to visit UNICEF's website."
Gracias a vosotros por la labor incansable que hacéis siempre, como en este momento delicado.
Con @unicef_es hemos comprado ya material sanitario tan urgente y necesario.
Cualquier ayuda es poca, os animo a todos. Desde un sms con "UNICEF" al 28028 a visitar la pág web de Unicef. https://t.co/OG9m2Kzv6N

— Fernando Alonso (@alo_oficial) March 31, 2020
The Formula 1 champion of 2005 and 2006 left the classification, after the 2018 season. However, he has been taking an interest in various other races. He won the World Endurance Championship, similarly, took part in the Dakar Rally and was getting ready for the Indianapolis 500 in the United States.
Above all, Spain overtook China in the number of COVID-19 cases. In conclusion, 94,417 individuals are infected and 8,269 passed on from the sickness in the nation.