Lando Norris Picks 'Fall Guys' Over 'Among Us' as His Favorite: Here's Why
Published 10/09/2020, 6:59 AM EDT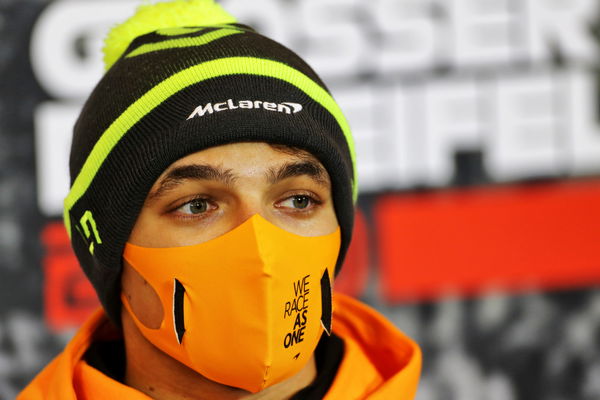 ---
---
Lando Norris has gained quite a popular following for all his off-track gaming activities. The McLaren man frequently uses the streaming platform 'Twitch' to play a variety of games. And with games such as 'Fall Guys' and 'Among Us' steamrolling the eSports world, Norris reveals his preference.
ADVERTISEMENT
Article continues below this ad
Norris may not be a very frequent streamer while the F1 season is in full swing, but that doesn't mean he isn't playing all the latest games.
Speaking at the drivers' press conference ahead of the Eifel Grand Prix, this is what the Briton had to say about the latest craze, 'Among Us'. "I've played it once or twice. It takes a lot more of skill mentally, and that's where I start to struggle really quickly.
ADVERTISEMENT
Article continues below this ad
"I'm not as good at it (as at Fall Guys). Fall Guys is easy for anyone to come and play. It's very good fun and so is Among Us. But you have to lie very convincingly and I'm not very good at that.
"So it doesn't suit my strengths, which is… not many really. But my weaknesses are, not lying very well… And that's the whole point of the game. I'm much stronger suited to Fall guys rather than Among Us."
The 20-year-old sure does know a lot about the gaming world. One can definitely envision him transitioning into a full-time eSports player once his F1 career wraps up.
But that seems like an eternity away; until then, fans can continue watching a potential World Champion in the making.
Lando Norris' teammate Carlos Sainz clueless about gaming conversation
As the younger McLaren driver gave a well-detailed answer regarding the games, his teammate Carlos Sainz just looked on, probably thinking to himself, 'Why am I here?'
ADVERTISEMENT
Article continues below this ad
When the spotlight was thrown on the Spaniard, asking for his opinion on the matter, Norris jokingly blurted out and said, "He doesn't even know what they are." To which Sainz, in the most disinterested manner, replied, "I don't know what he is talking about."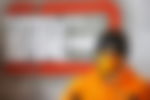 Coming to more serious matters pertaining to F1, McLaren will be looking to protect their standing (3rd place) on the Constructors' Championship table at the Eifel Grand Prix (11th of October).
ADVERTISEMENT
Article continues below this ad
Norris and Sainz have looked impressive more often than not. But the latter had really horrible luck during the past two races. If the 'Milk and Chili' duo go all out in Germany, the Woking-based outfit could add a buffer zone between themselves and the rest of their mid-field rivals.