Watch: Alex Albon Takes a Cheeky Dig at Charles Leclerc, Reminding Him of Q3 at Monza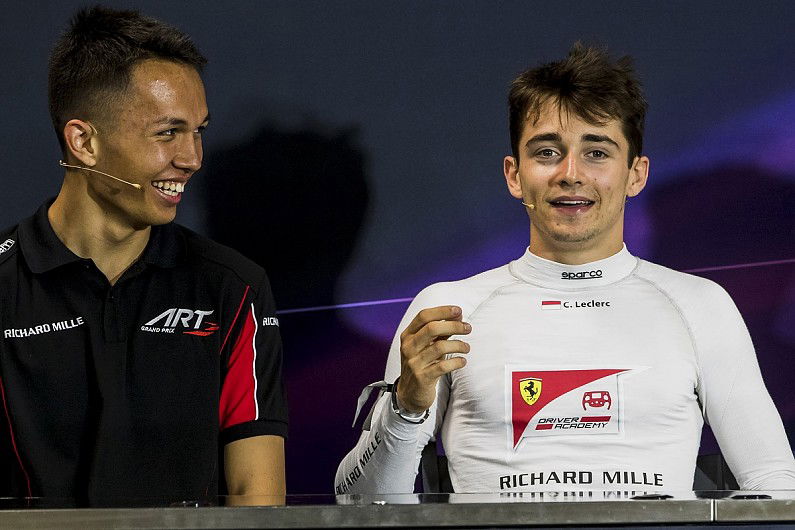 Alex Albon couldn't resist taking a dig at Charles Leclerc during a practice run in F1 2019. The Thai driver referenced a particularly awkward moment in the Monegasque's career with teammate Sebastian Vettel. This friendly banter between the newer generation of F1 drivers is helping fans get through the period of doom and gloom.
THAT Qualifying session
With no on-track action, the relatively 'new' F1 drivers are turning towards to Esports during the shutdown. Charles Leclerc and George Russel recently joined Twitch and have taken the streaming platform by storm. The duo often races or practice together with other F1 drivers on the F1 2019 game when not competing in Esports events.
The banter, dirty driving and trolling – while all in the spirit of healthy competition is what makes watching the newer drivers an absolute treat. While cruising around in a practice session in-game at the Italian Grand Prix, Albon decided to remind Charles of Monza Q3 last year.
For the newer fans, last year's final qualifying session at Monza was a new low in Formula 1. In a bid to get a proper slipstream, drivers deliberately slowed down in the hopes of letting a car go through. Not a bad strategy, but it doesn't quite work if all 10 cars end up coasting.

Charles Leclerc took pole but it wasn't without controversy. Some fans accused the driver of not paying Vettel back with a slipstream in the hopes of not losing pole. It's safe to say that was probably Leclerc's worst pole of the 7 he took in 2019.
Alex Albon reminds Charles Leclerc of Monza 2019
Nevertheless, 6 months on and it's all water under the bridge. Except Alex Albon decided to take a trip down memory lane. He couldn't hold back from making witty references at Charles' expense.
"Charles is trying to find a slipstream like last year!" said Albon cheekily.
"Finding what slipstream?" asked Charles.
"Will he let his teammate pass this time?" replied Albon.
The other drivers couldn't help but acknowledge Albon's fantastic comic timing.
Leclerc's adapted very quickly to the F1 2019 game. The Monesqaue won his inaugural F1 Virtual Grand Prix yesterday after a stunning drive at the Albert Park Circuit.