Watch: Charles Leclerc Hilariously Recreates Sebastian Vettel's Meltdown From Baku in F1 2019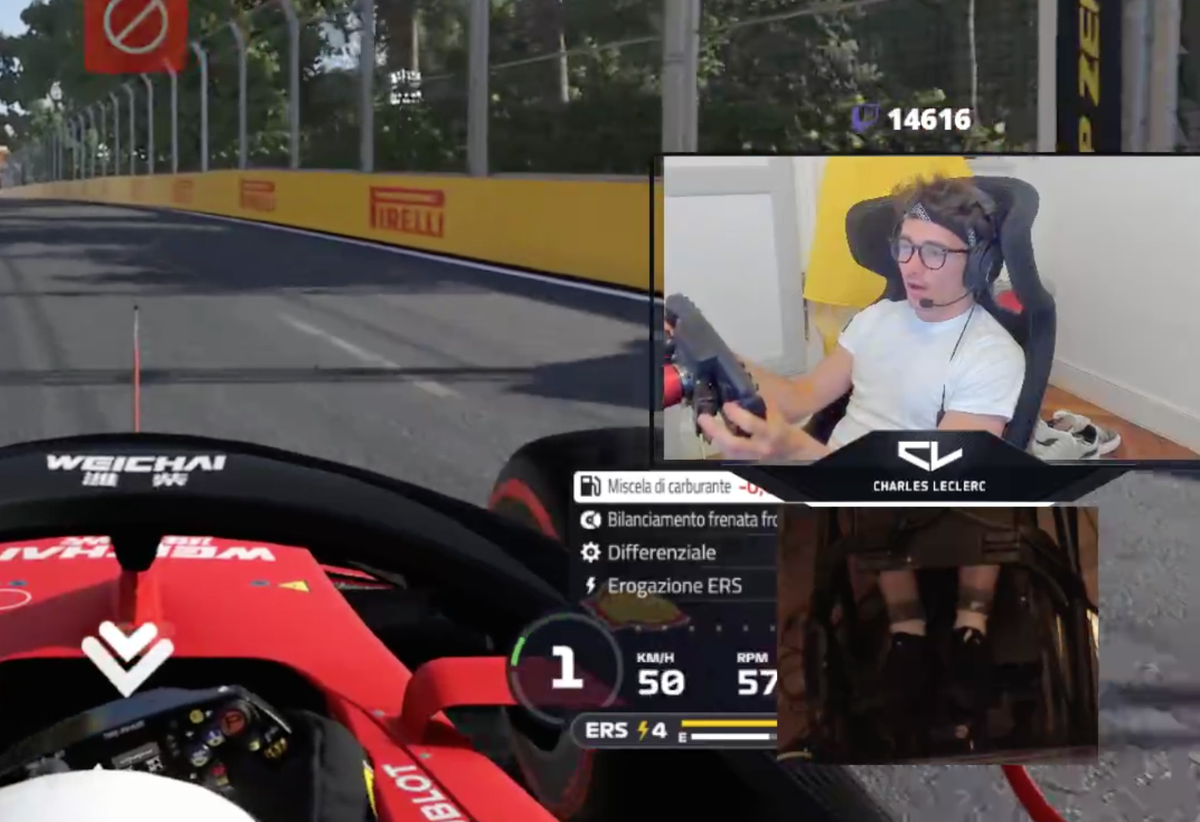 Charles Leclerc. A Grand Prix winner, Scuderia Ferrari driver, and going by his antics on Twitch, he's got a great sense of humor. With no actual racing scheduled for the next few months, Leclerc' turned to streaming platforms and shows off his skills in the virtual world. He's quickly becoming an internet sensation and his latest stunt is a testament to his comedic side. While fooling around with Albon and Russell on F1 2019, Charles decided to emulate Sebastian Vettel's infamous outburst from 2017.
Charles Leclerc imitates Sebastian Vettel
George Russell, Alex Albon, Leclerc, and Norris often play together on Twitch. The gang regularly competes in friendly races and has taken to reverse grids as of late. While competing in a friendly race in Baku, Charles got a little too friendly. The Monegasque charged up to Russell, got alongside him and the pair ended up banging wheels. The move was reminiscent of Sebastian Vettel's angry reaction to Lewis Hamilton allegedly brake testing the German from Baku 2017.
For the unaware, Sebastian Vettel was involved in a bizarre incident during a safety car period at the 2017 Azerbaijan Grand Prix. Hamilton was leading the pack with Vettel in second place during the final moments of the safety car. Hamilton appeared to be slowing down and caused Vettel to run into the back of the Mercedes. The move enraged the German, who swerved alongside Hamilton and the duo ended up banging wheels.
While Leclerc is spending is most of the shutdown with esports and Twitch, he also raised a considerable amount of money for charity. The Monegasque participated in a stream for a charity called – "Race for the World", as a fundraiser for COVID-19. Leclerc, Latifi, Russell, Albon, and Norris organized a 3-day event to raise money for a good cause. At the end of the event, the stream raised a commendable $70000
Despite his pranks during friendly races, Leclerc is turning into quite the esports competitor. The Monegasque won his inaugural Virtual Grand Prix race and followed it up with another victory at the third edition of F1's official esports competition. Can the 22-year old make it a hat-trick of wins at the fourth Virtual Grand Prix?