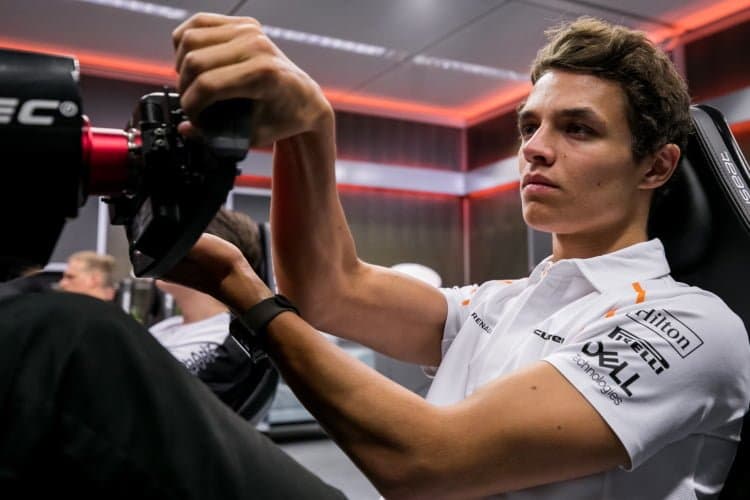 Lando Norris' long-standing feud with the F1 2019 game has finally come to an end. Norris reached breaking point after yet another crash in-game and did the unthinkable. It's safe to say Lando Norris won't be engaging in any of Codemasters' creations anytime soon.
Lando Norris won't be playing F1 2019 any time soon
For Lando, the phrase – 'third time lucky' never came to pass. The Briton suffered yet another embarrassing disconnection in the F1 2019 game just before the start of the Virtual Grand Prix. It was too much for the 20-year-old who decided to walk away from the game for good.
Clip of landonorris Playing F1 2019 – Clipped by givemedempandas
For Lando Norris, the F1 2019 game works perfectly fine except on occasions when the results actually count. The Briton's game crashed for the first time during the inaugural F1 Virtual Grand Prix. Next, the game failed as Lando was streaming live to 100000 people on Twitch as part a fundraiser for charity. Little did poor Lando know that there was more to come.
In the final chapter of this heartbreaking trilogy, Norris couldn't even get a lap in during yesterday's Virtual race. After setting a reasonable lap time in qualifying, Norris' game randomly booted him out of the Esports league. The Briton had just about enough and uninstalled the game from Steam.
To add to Codemasters' PR disaster, Norris dialled up Max Verstappen to get his thoughts on the events that transpired. Max has been critical of the game in the past and didn't hold back from trashing the game.
Verstappen's suggestion
"I pressed to join the race, and it just said sorry you're not allowed to join the race," said Norris while streaming on Twitch.
Clip of landonorris Playing F1 2019 – Clipped by iBreM_0
"Close the game, throw it in the bin," replied Max.
The pair also discussed the game's realism and it turns out the cars may not be of equal performance after all.
"Apparently there are still differences," revealed Norris.
"The wheelbases of the car, they are different, so yeah there are actual differences."
"Well have fun watching and yeah…I'll never join that," said Max before ending the call.
Verstappen and Norris are the only drivers on the current grid who actively participate in sim racing and have a wealth of experience when it comes to online racing. Hopefully, F1 can convince the Brit to return before the next Virtual Grand Prix.