Watch: Lando Norris Trolls Charles Leclerc by Reminding Him of Ferrari's Engine Controversy During Esports Event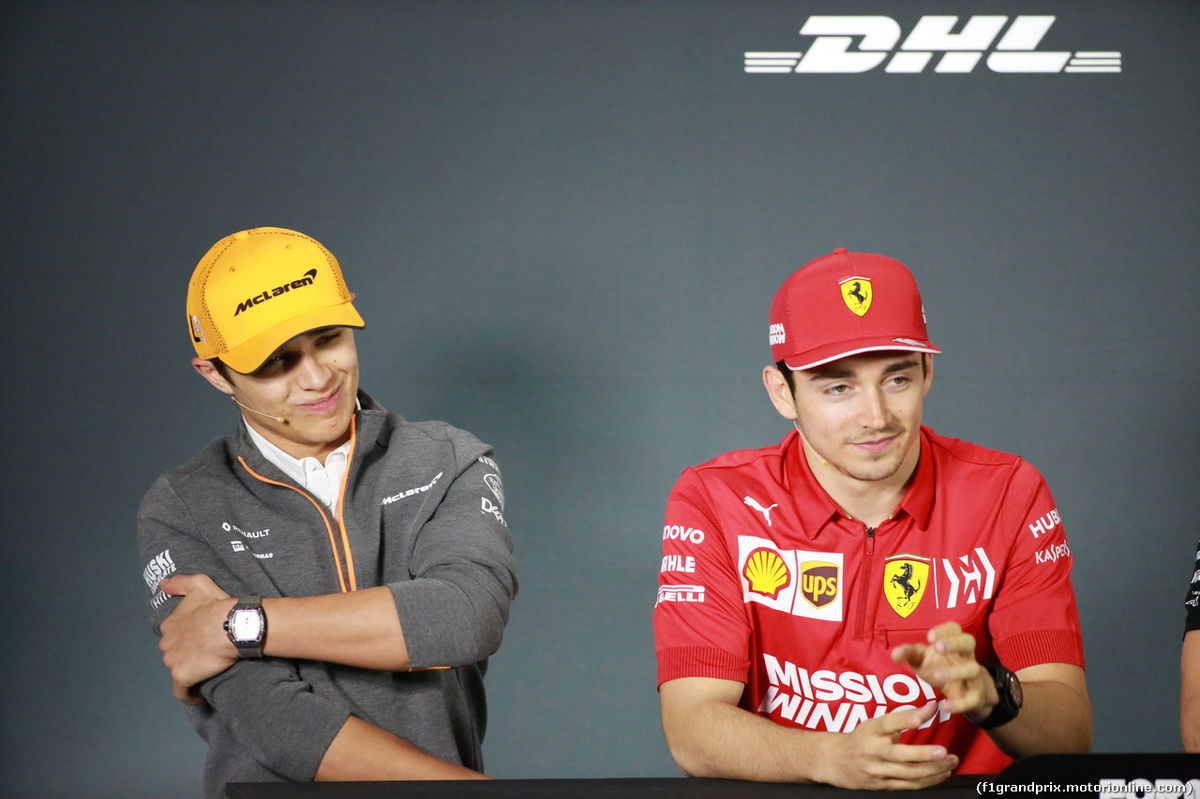 Lando Norris couldn't resist taking a dig at Charles Leclerc in yesterday's Esports event for charity. Norris couldn't help but remind Leclerc of Ferrari's disastrous pace at the US Grand Prix when the latter complained of being off the pace. Norris, Leclerc and 4 other F1 drivers are currently hosting their own Esports series to raise money for charity.
Lando Norris trolls Charles Leclerc during a charity event
6 F1 drivers – Leclerc, Norris, Alex Albon, George Russell, and Nicholas Latifi have organized a 3-part Esports event. The drivers aim to raise $100k by next week to aid in the fight against COVID-19. So far, the series, titled- Race for the World, has raised a third of the amount.
While practicing for the first virtual race in Abu Dhabi, Leclerc appeared to be struggling with his car and failed to get on the pace. Norris, being the ultimate troll in F1, was quick to remind him of Ferrari's sudden engine issues in Austin last year. For the unaware, Ferrari was light years ahead of the competition when it came to sheer pace in the second half of 2019.

However, teams suspected some foul play in Ferrari's engine and sought clarification with the FIA over the engine's legality. The FIA's investigation coincided with Ferrari losing some of its trademarked straight-line speed, which led to many questioning the Italian team. Earlier this year, the Ferrari engine issue became a full-blown controversy that is yet to be resolved.
Norris' witty remark caught Leclerc tongue-tied and the Monegasque could only manage an awkward smile.
"What's going on there? How can the gap be so big?" asked an innocent Leclerc.
"You remember last year? When we arrived in COTA and Ferrari were much slower or something" replied Norris cheekily.
"And like, no one really knew why?"
Leclerc didn't have the best of races during the first virtual charity race. The Monegasque had a poor start and got spun around after the first few corners. Despite being compromised, Leclerc fought back to take fifth in the Abu Dhabi race. In the second event on Day 1, Charles finished fifth at the British Grand Prix.
The drivers will hold Day 2 of the Esports charity event on Tuesday.