Watch: Virtual Hot Lap With Codemasters' F1 2020 Game
Published 05/07/2020, 6:45 AM EDT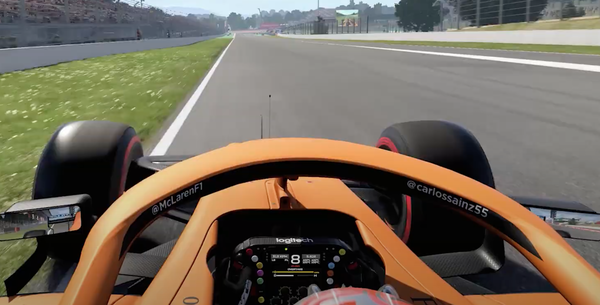 After teasing the addition of a brand-new circuit, Codemasters released another video with F1 2020 gameplay. The studio released another teaser showcasing F1 2020's gameplay with a hot lap around the Circuit de Barcelona. Suffice to say, the upcoming game looks very impressive.
ADVERTISEMENT
Article continues below this ad
F1 2020 brings in a host of new features – including two new circuits and a radically different career mode. Dubbed "My Team", F1 2020 lets players enroll an eleventh team into career mode. Players can customize their own team, manage drivers, and basically experience the hardships and rewards of running an F1 team.  While a redesigned career mode is breath of fresh air, it'll be interesting to see if Codemasters have fixed some issues that plagued F1 2019.
Virtual hot lap on the F1 2020 game
ADVERTISEMENT
Article continues below this ad
While F1 2019 was graphically breathtaking, it lacked a fair bit of realism and physics. Various bugs and glitches still exist in the 2019 version of the game despite releasing nearly a year ago.
The game is undoubtedly Codemasters' best creation in F1 to date but wasn't exactly flawless. Codies haven't revealed a lot about the upcoming game but the trailers look promising.

In their latest teaser, Codemasters recreated a virtual hot lap at the Spanish Grand Prix. The video features an onboard of Carlos Sainz 's car in his 2020 McLaren MCL35 taking us on a lap around his home Grand Prix. First impressions, the cars sound significantly different when compared to last year's game. Many fans hated the fact that the F1 cars on F1 2019 didn't sound anything like their real-life counterparts.
ADVERTISEMENT
Article continues below this ad
One noticeable change includes the final sector on the Barcelona track. The track now features a more pronounced last sector with visible elevation changes and subtle differences.
Codemasters probably chose Barcelona, as F1 will hold its next Virtual GP with the Spanish Grand Prix.
As far as visuals go, it appears Codies have outdone themselves yet again. F1 2020, like F1 2019, looks stunning and highlights how far Codemasters have come since their early Formula 1 games.
ADVERTISEMENT
Article continues below this ad
Considering F1 is celebrating its 70th anniversary in motorsports, Codemasters has decided to honor F1's greatest driver. F1 2020 features a special deluxe edition as a tribute to Michael Schumacher. As part of the game, players receive 4 of Schumi's most iconic cars from his illustrious career. Purists will surely enjoy adding a few more vintage cars to their classic F1 car collection.
F1 2020 releases on July 10, 2020.