Lando Norris and Max Verstappen collide yet again during last night's 'Real Racers Never Quit' Round 4. An overtake attempt by Lando on race leader Max caused them to tangle into each other. Both the drivers had a spin and brushed the barriers before regaining control of the cars.
The field consisting of pro racers and sim racers was allotted 2017-spec European F3 car to drive on the Road America track for two 11-lap races.
Max Verstappen dominated the race and took a decisive victory at Road America. The Dutchman won both the rounds of the Team Redline's 'Real Racers Never Quit' round four.
Former F1 World Drivers' Title winner Jenson Button was a surprise late edition to the event. It was announced hours before the race that the 2009 F1 world champion will be making his Esports debut. However, it was a low-key start for Jenson who put only two laps in Race 1 and disconnected.
Max Verstappen Fends Off Lando Norris And Juncadella To Take The Win
Verstappen rebounded from his under-performance last week at Watkins Glen. He went on to crush the opposition from pole in the first race. But faced a fierce challenge from Daniel Juncadella in the second race of the 'Real Racers Never Quit' sim battle.
Verstappen dominated from the qualifying to the last lap in the first battle of the evening. And was looking to repeat the fate in the second heat until a mistake put him in the clutches of poleman Daniel Juncadella. Juncadella is a young Spanish driver competing in the DTM series.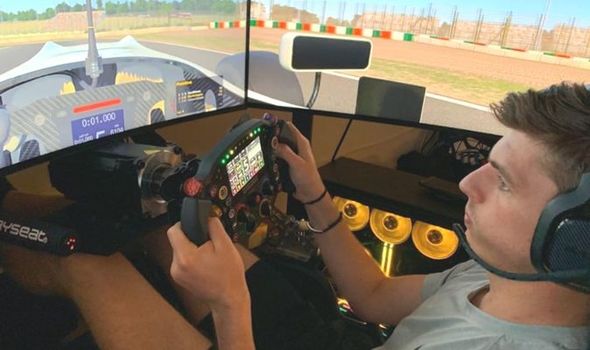 Red Bull driver had sparred with F1 colleague Lando Norris, who had finished third in race 1, but a mistake saw the McLaren driver plummet down the field, leaving Juncadella to hunt down Verstappen.
Lando's small overtaking mishap occurred two laps from the end. Allowing Juncadella to mount a proper attack on race leader Max. But Verstappen fiercely defended his leading position, weaving on the straight and pulling out every trick in the book to fend off the Spaniard. Max's moves were too much for the DTM driver sending him into the wall at one point.
In the end, both drivers saw the checkered flag at P1 and P2 while Kelvin van der Linde finished a distant third.