WATCH: Treacherous Tracks at Dakar Rally Prove Costly for Heavily Injured Former Moto GP Star Danilo Petrucci
Published 01/08/2022, 5:41 AM EST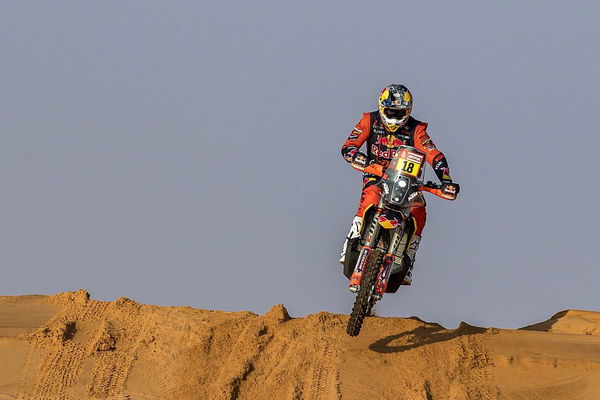 Stage 5 of the Dakar Rally told the heroic tale of an underdog taking the victory. Moto GP exile Danilo Petrucci took a hard-earned stage victory; however, the triumphant racer's celebrations were soon cut short.
ADVERTISEMENT
Article continues below this ad
Having left Moto GP after the 2021 season, many doubted Petrucci's rookie attempt at the Dakar Rally. Transitioning from asphalt to dunes wouldn't be easy, but the Italian cut off his critics; he is now the first Moto GP racer from his country to win a stage at the Rally.
ADVERTISEMENT
Article continues below this ad
However, after a historic win at stage 5, the next stage culminated the racer's further attempt at glory. After the cars and trucks finished their event, the track was treacherous for bikes. Thus, Petrucci hit a bump as the racer behind him collided with him.
A heavily injured Italian explained, "The team did a good job of warning me about the dangers, but I was still surprised to find a big step in the middle of the track. I had quite a heavy crash and the rider behind me crashed too, but luckily, I was able to continue."
The KTM driver was glad that the organizers ended the stage because of the unsafe conditions. He had to take five stitches to his elbow to aid the wound. "I think they made the right decision [to halt the Stage] and now I'm looking forward to having one day of rest before continuing on Sunday."
History made at the Dakar Rally
ADVERTISEMENT
Article continues below this ad
Despite a forgettable stage 6 experience, Petrucci dominated stage 5 of the event. The racer took on his challenge like a duck to water. He even had a promising stage two performance, but luck wasn't on Petrucci's side as mechanical problems pulled him out of contention.
He's been in podium contention for individual stages every day;  barring a penalty for speeding that demoted him from second to third on stage four, his fortune seemed to have turned. They handed a similar penalty to Toby Price in stage 5, demoting him from P1  to PP2. Thus, Petrucci found himself as the victor of the stage.
ADVERTISEMENT
Article continues below this ad
The only racer to have won a Moto GP race and a Dakar stage, the Italian was writing history. Now, having tested the waters successfully, 2023 awaits the zealous racer.
Watch this story: From Jimmy Kimmel to Ellen: Lewis Hamilton on Talk Shows