"Vale Was There" – Lewis Hamilton Heaves a Sigh Of Relief On Choosing F1 Over MotoGP
Published 04/02/2022, 6:44 AM EDT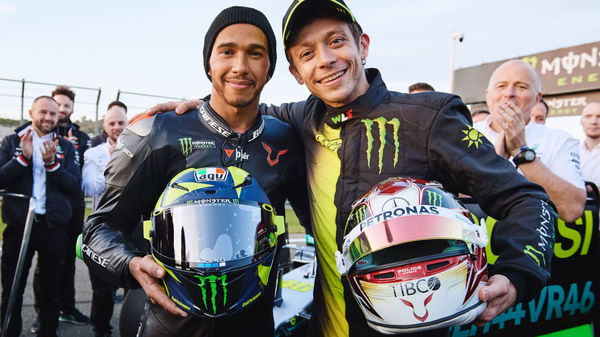 Lewis Hamilton is one of the most recognized athletes on the planet. What he has achieved in Formula One will not be superseded in the near future. Hamilton has mentioned that he idealized Ayrton Senna in the world of motorsports since he was a child. But there is one other motorsports icon whom Lewis has a lot of respect for, Valentino Rossi.
ADVERTISEMENT
Article continues below this ad
Valentino Rossi is the most successful MotoGP rider of all time. The Italian has won 9 World Championships during his careering being a part of motorbike competitions. Both Rossi and Hamilton have often been vocal about their mutual admiration for one another. At the latest IWC event, the Mercedes driver revealed that his first love since he was a kid was motorbikes and not cars.
ADVERTISEMENT
Article continues below this ad
Lewis Hamilton reveals his love for motorbikes over cars
The 7-time world champion mentioned he wanted to become a MotoGP rider in his younger days. He revealed he is very much passionate about motorbikes just like he is about cars. But he revealed his father stopped him from racing in MotoGP as he thought it was too dangerous for him.
In the recent IWC interview, we can hear lewis express, " I've always loved bikes. When I was younger, I really wanted to ride bikes more than cars. My dad didn't want me to ride bikes. He said it was too dangerous."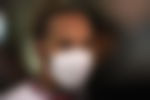 "He got me four wheels instead of two and it was the right choice. Because if I had been racing during the time Vale was there, I probably wouldn't have been successful," Hamilton concluded.
ADVERTISEMENT
Article continues below this ad
WATCH THIS STORY: From Lewis Hamilton to the Miz: When F1 & WWE Crossed Over
It is really interesting to know that the Mercedes driver preferred riding bikes over cars in childhood. We got a taste of his skills on the 2 wheelers when he swapped rides with Rossi a few years back in 2019.
ADVERTISEMENT
Article continues below this ad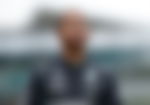 But everyone can agree Hamilton made the right decision by choosing F1 over MotoGP as he wouldn't have been as successful if he were competing against Valentino Rossi. Moreover, with 7 world titles under his belt, there is no denying the fact that Lewis was always destined for greatness in Formula 1.