How Dale Earnhardt Inspired Daniel Ricciardo to Take #3 on His F1 Car
Published 09/15/2021, 7:10 AM EDT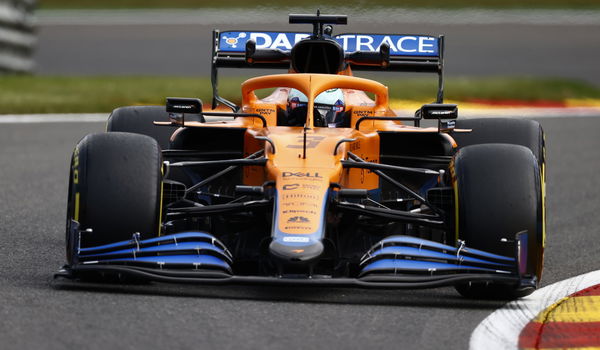 ---
---
For many, selecting a race number means more than meets the eye. Daniel Ricciardo is no different and has revealed the reason he chooses to race with the number three on the side of his Formula One car.
ADVERTISEMENT
Article continues below this ad
Many look up to their idols and take inspiration from them when it comes to choosing a number. For some, the number has to provide a feeling that resembles being home. The Australian is a combination of both, as it has both an inspiration from his idol and something to remind him of home.
Why did Daniel Ricciardo choose number 3 in F1?
ADVERTISEMENT
Article continues below this ad
When drivers are young, they admire their racing heroes. Usually, the heroes are either Senna or Schumacher. However, for Ricciardo, it was a NASCAR legend, Dale Earnhardt, who had the number three on the side of his car. And that's why the number 3 is on his car.
He said, "Reason for #3 is it was my first ever number in karting and I was also a fan of Dale Earnhardt," explaining to his fans why #3 is significant to him.
Watch Story: What Are Sprint Races & Where Will They Be Held?
A personal touch from Daniel in selecting his race number
When drivers are in their karting days, they think of their heroes when they are given a choice for selecting their number. However, along with finding inspiration from Earnhardt, he found inspiration from home as well.
ADVERTISEMENT
Article continues below this ad
He said, " It all started with my very first go-kart race. We couldn't choose numbers at the time. It was just whatever number they pulled out of a hat that was ours. And, it was number three, and at the time I our house number was number three.
"So it was like "Oh this is awesome, cool. I was following NASCAR and Dale Earnhardt was number three. He was known to have the black car with the bold three on it. And then when we could choose our number in Formula One, back in 2014, that was obviously my first choice and I got it, and I was like "alright. So pretty proud to be number three actually," he concluded.
ADVERTISEMENT
Article continues below this ad
However, it does get better for the McLaren driver. He had placed a bet with Zak Brown stating if he scored a podium he would drive his idol's car. Now with a win at Monza, Ricciardo is certainly hoping to get behind the wheel of that iconic car.