NASCAR Acknowledges the 'Greatest Day in Racing' in the History of Motorsports
Published 05/30/2022, 2:06 PM EDT

Follow Us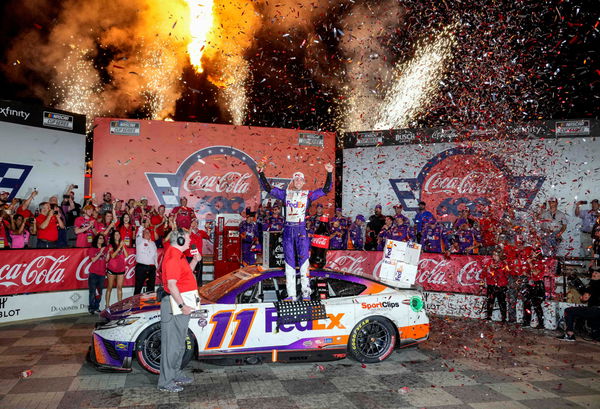 This past weekend was one of the most crucial couple of days for the world of sports in recent history. There were so many mega events taking place on Saturday and Sunday, it would have made everyone's head spin. First and foremost was the UEFA Champions League final between Liverpool and Real Madrid. There was also the ongoing French Open. However, this was an even bigger weekend for motorsports, especially for NASCAR, IndyCar, and Formula One.
Motorsport Sunday kicked off with the Italian MotoGP race at Mugello. This is considered an iconic race due to the atmosphere at the Mugello circuit. What made this race stand out was that this is the first time that Italy's pride, Valentino Rossi, was not on the grid. However, race winner Francesco Bagnaia ensured that Rossi's legacy did not die. This is because he is a graduate from Rossi's rider academy.
ADVERTISEMENT
Article continues below this ad
Almost as soon as all three MotoGP class races ended, the F1 Monaco Grand Prix commenced. Monaco is one of F1's crown jewel races, and is considered as part of the motorsports triple crown.
Graham Hill is the only driver to have ever completed this triple crown. Meanwhile, Juan Pablo Montoya and Fernando Alonso have come close.
Where do NASCAR and IndyCar fit into all this?
ADVERTISEMENT
Article continues below this ad
Almost as soon as the F1 race finished, with Sergio Perez emerging victorious, it was time for the Indy 500. This is the second race to be considered as part of the Triple crown.
WATCH THIS STORY: Dale Earnhardt Jr Sheds Light on "Lasting Impacts" of Concussions That Forced Early NASCAR Retirement
The 2022 edition of the Indianapolis 500 witnessed former F1 driver Marcus Ericsson emerge triumphant. His victory came after 7-time NASCAR champion Jimmie Johnson crashed and brought out a red flag. When the race resumed, it was for a 2 lap sprint to the finish, which the Swedish driver won.
ADVERTISEMENT
Article continues below this ad
Finally, the Coca-Cola 600 at the Charlotte Motor Speedway closed out an action-packed weekend. Over here at the Charlotte Motor Speedway, Denny Hamlin reached Victory Lane. Admittedly, this race may not be as well-known as the Daytona 500, but it is considered iconic in NASCAR circles. The 2022 edition also broke the record for the longest NASCAR race.
Edited By: Ranvijay Singh