Lewis Hamilton Salutes Giannis Antetokounmpo After His Maiden NBA Title Win With the Bucks
Published 07/22/2021, 7:28 AM EDT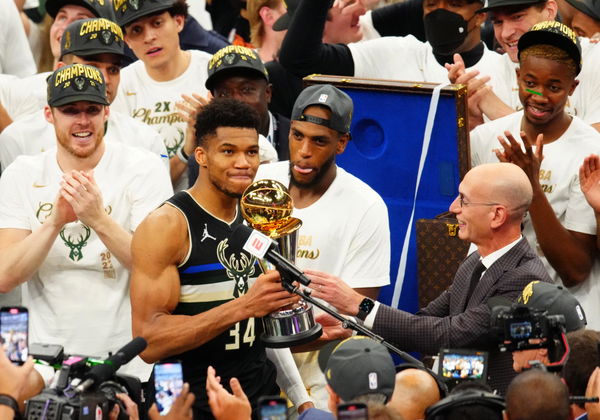 ---
---
In a finals game that went back and forth, the Milwaukee Bucks took home the shiny Larry O'Brien Trophy. This is the Bucks' first win in half a century and the glory went to one man – Giannis Antetokounmpo. He gave a transcendent performance on the court with 50 points to his jersey, one of the most iconic plays in the sport's history. Giannis was rightly ordained the MVP as the cigars were passed and the tears were shed.
ADVERTISEMENT
Article continues below this ad
It takes one to know one; Mercedes' MVP, Lewis Hamilton, congratulated the Bucks player. Hamilton posted a motivational video of Antetokounmpo on his Instagram story, saluting him for the same.
ADVERTISEMENT
Article continues below this ad
Lewis Hamilton and Giannis Antetokounmpo share a lot in common. Both have been raised by single parents who worked hard to bring home the money. Anthony Hamilton took up extra jobs to support his son's karting career, while Veronica Antetokounmpo sold items on the street to raise finances for her three sons. Both these sportspersons attribute their success to the hard work put in by their parents.
Additionally, both have been compared to legends of the sport. While Hamilton has broken many records of Michael Schumacher, Giannis seems to be walking in Shaq's footsteps.
Lewis Hamilton – Difficulties made the man
Formula One is known to be the exclusive sport for the rich. It is an unfortunate truth, as karting takes a lot of investment. Hamilton is the son of a single father and survived a broken home as a child. He grew up in a municipal housing estate in Stevenage where Anthony Hamilton held down three jobs to fund his son's budding karting career.
Hamilton's journey lacks luxury, but it allows him to show his mettle today. His father had identified his son's gusty gift for speed as Lewis was born for the track.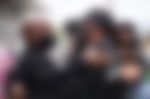 When he was 10, Hamilton, in a borrowed jacket and shoes, went to an awards ceremony in London where he met McLaren's then-boss, Ron Dennis. the young driver asked him for an autograph and said, "one day I want to race for you." To this, Dennis replied, "phone me in nine years and I'll sort you a deal." 
ADVERTISEMENT
Article continues below this ad
Dennis didn't wait that long, and within three years, he agreed to support the Brit's passage through the junior leagues, en route to his illustrious debut with the team in 2007.
And the rest is history.
Watch this story: F1 Driver Salaries Revealed: How Much Do Lewis Hamilton & Co. Earn?
ADVERTISEMENT
Article continues below this ad
Trending Stories