2021 F1 Liveries Ranked: Alpine, Aston Martin Steal the Show as Red Bull Disappoint
Published 03/11/2021, 6:15 AM EST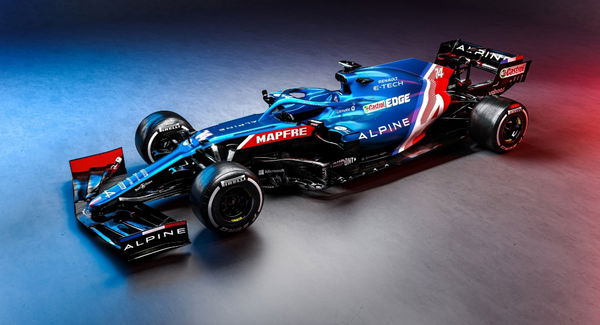 ---
---
With Ferrari having unveiled their 2021 livery on March 10, all ten F1 teams have now displayed their newest challenger to the world. All ten liveries received a variety of responses. Some were adored because they were absolutely stunning, while others failed to invoke too many emotions. And the remaining just left one wondering why the team didn't opt to stick with their 2020 livery.
ADVERTISEMENT
Article continues below this ad
So we are going to categorize all ten liveries for the 2021 F1 season.
Before we dive in, all 10 liveries will be categorized into one of three categories. The three categories will be namely, 'superhit,' 'solid,' and 'hard pass.' Now without further ado, let us take a look at which team falls under what category.
ADVERTISEMENT
Article continues below this ad
Superhit F1 liveries of 2021 – Alpine, Aston Martin, Alfa Romeo
The two newly rebranded teams of Alpine and Aston Martin walk into this category. Alpine's livery is a good shout for the best livery of the season. The French team will sport a gorgeous dark blue livery with accents of red and white that gel really well.
Aston Martin's beautiful British green livery was a thing to behold. They stuck to their roots and, more importantly, didn't let the BWT pink dominate. Safe to say there wasn't a single hater.
Alfa Romeo were the first team to unveil their livery. And boy, did they set the bar high. Although the livery was basically a reversed version of the 2020 version, one can't deny that the dark red/maroon and white color scheme is a match made in heaven.
Solid liveries for 2021 – McLaren, Mercedes, AlphaTauri, Ferrari
McLaren, Mercedes, AlphaTauri and Ferrari all had good liveries. However, they weren't quite as good as the other four. Perhaps the reason for that was McLaren opted to go with pretty much the exact same livery as last year, while AlphaTauri boosted the navy blue color on the car.
Ferrari on their part also stuck to their classic red color with a darker shade covering the rear end of their car.
Mercedes could perhaps stake a claim to go into the category above this one. They did release a good black and silvery livery. But where it lost points was the multitude of AMG logos at the back of the car.
None of these four liveries were hated. But none were exactly the talk of the F1 town either. Therefore, they fall into this 'in-between' category.
Hard pass liveries for 2021 – Haas, Williams, Red Bull
Looks like Haas and Williams won't just be competitors for the worst team on track in 2021, they'll also be competitors for having the worst liveries of the year. Obviously, the same can't be said for Red Bull, but they too fall under this category because of two main reasons.
Firstly, they didn't really have a car launch as such, and secondly, their livery is basically a repeat of last year's one, leaving fans who were waiting in anticipation, look a bit stupid.
The reasons for the other two teams vary, though. For Haas, they immediately fell into hot water when they revealed their car. They got slammed on social media for being an American team sporting Russian colors. Moreover, they are also under the scanner of the World Anti-Doping Agency for using the Russian flag.
ADVERTISEMENT
Article continues below this ad
Williams, meanwhile, just had a very odd-looking livery. The colors just did not make any sense. There were blues, blacks, oranges and whites all in a very disorganized manner. It's hard to know why they came up with this color, especially when the racing suits are so classy. Let's hope for their sake that the car outperforms its livery.
ADVERTISEMENT
Article continues below this ad
Let us know in the comments what you feel about these rankings. Also, do tell us which was your favorite livery!