2021 Spanish Grand Prix Press Conference Driver Pairings: Mazepin and Perez Face-off in Barcelona
Published 05/06/2021, 4:47 AM CDT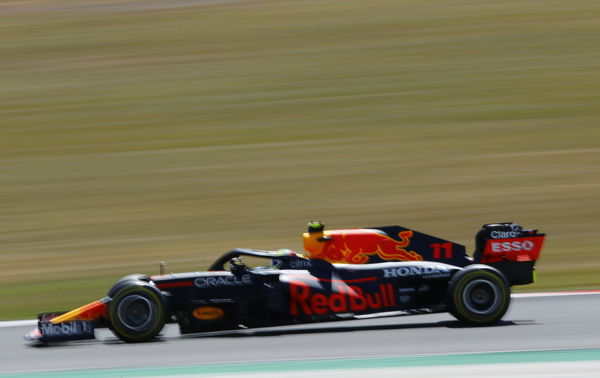 ---
---
So far in the 2021 Formula One season, only three races have wrapped up and the fourth, the Spanish Grand Prix, is up next. However, Sergio Perez already seems to have found a rival on the track, and it is an unlikely one. Apparently, he and Nikita Mazepin fell afoul of each other on multiple occasions on the racetrack.
ADVERTISEMENT
Article continues below this ad
Admittedly, they haven't exactly collided with each other. However, they have gotten in each other's way during practice or qualifying.
Naturally, this has led to multiple ugly exchanges. While Mazepin did apologize for the last encounter, things don't seem all too rosy between the two. Unfortunately for them, they may have to face the music at the Spanish Grand Prix press conference this weekend.
ADVERTISEMENT
Article continues below this ad
F1 recently released the Thursday press conference line-up for the weekend. And as part of this year's initiative to have random driver pairings for the pre-race press conference instead of making teammates sit together, F1 decided to have Perez and Mazepin face the media together.
One of the biggest highlights is the Spanish reunion between Carlos Sainz Jr and Fernando Alonso. Ironically, both of them have driven each other's cars, though that is another story altogether.
Another tasty line-up is Lewis Hamilton and Daniel Ricciardo.
While Sainz and Alonso are set to open the show, Mick Schumacher and Valtteri Bottas follow them. Next on the list are Yuki Tsunoda and Max Verstappen, followed by Lance Stroll and Lando Norris.
Pierre Gasly and Charles Leclerc find themselves in the hot seat up next, with Sebastian Vettel and Nicholas Latifi coming in after them.
Esteban Ocon and George Russell are the next pair, followed by Ricciardo and Hamilton. After Perez and Mazepin, the Alfa Romeo duo of Antonio Giovinazzi and Kimi Raikkonen will wrap up the show.
What to expect from the Sergio Perez-Nikita Mazepin encounter?
Interestingly, the Russian and the Mexican driver have been paired up for the presser. This opens up so many avenues, especially in terms of them getting in each other's way on the racetrack. Hopefully, things should not get too heated between them, as Mazepin and Sergio Perez try to iron out any issues between them.
ADVERTISEMENT
Article continues below this ad
This weekend is the Spanish Grand Prix in Barcelona. One would hope that the Haas F1 driver and the Red Bull driver stay out of each other's way. Nikita Mazepin does not need to make any more enemies, and Perez is also on the same boat.
Admittedly, Perez also needs to buck up and try to keep up with Verstappen. It is not that Perez is incompetent; he is far from it, if we're being honest. However, the statistics all show that the Dutchman has gotten the better of him on a number of occasions in 2021.
ADVERTISEMENT
Article continues below this ad