"A Honey Badger Head": Daniel Ricciardo Reveals His Crazy Plans for Cyril Abiteboul's Tattoo
Published 04/30/2021, 4:02 PM EDT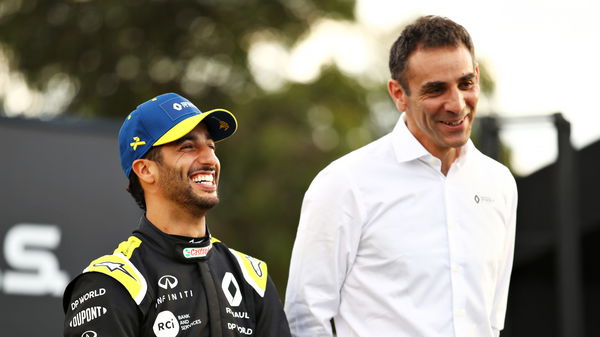 ---
---
One of the talking points of the 2020 F1 season was the tattoo bet between Daniel Ricciardo and Cyril Abiteboul. The Australian, who held his end of the bargain by grabbing a Podium for Renault, now has to get his former boss under the inking machine. But what design does he have in his mind?
ADVERTISEMENT
Article continues below this ad
Judging by Ricciardo's charismatic personality, we know that it is not going to be a conventional dragon tattoo. But, at the same time, he wants to keep it classy with his former Renault team boss. And for the first time, he's divulged on the finer details of his masterpiece, which includes his favorite animal.
"Ultimately what I want to do is get a very like traditional tattoo, like a pair of shaking hands. That kind of represents like the deal that we made. It's just a cool, traditional tattoo," Ricciardo told RaceFans in an exclusive interview.
ADVERTISEMENT
Article continues below this ad
"And then kind of my vision is to have like a honey badger head, peeking over the hands. So like just making sure that the deal got done. I've told like my friends, but I haven't told you guys."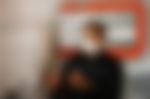 Daniel Ricciardo reveals why they haven't gone through with the tattoo bet yet
ADVERTISEMENT
Article continues below this ad
Abiteboul agreed to a tattoo on the condition that Ricciardo breaks Renault's F1 Podium drought. To which the Australian duly obliged by taking third place at the Eifel GP in November last year. It's been six months since then, during which Abiteboul has also left Renault. But since Ricciardo has confirmed that the tattoo bet is still on, we wonder what is causing the hold-up?
"With Cyril, it's basically just trying to be in the same place at the same time. I don't want to just tell him to go and get a tattoo and send me a photo, I want to be there, I want to organise it and document it. I'll pay for it. I'll get mate's rates. Pay cash," Ricciardo explained the reason for the delay.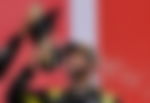 Meanwhile, he's continued his tradition of having a Podium bet with team bosses at McLaren. CEO Zak Brown has promised him a drive of Dale Earnhardt '84 NASCAR should he get a Podium for McLaren. Let's see if he can get win another bet or not.
ADVERTISEMENT
Article continues below this ad
Trending Stories