After Webber's Hilarious Scream During Lewis Hamilton's Baku F1 Incident, Rosberg Calls Him Out for Infamous Old Quip
Published 06/08/2021, 6:30 AM EDT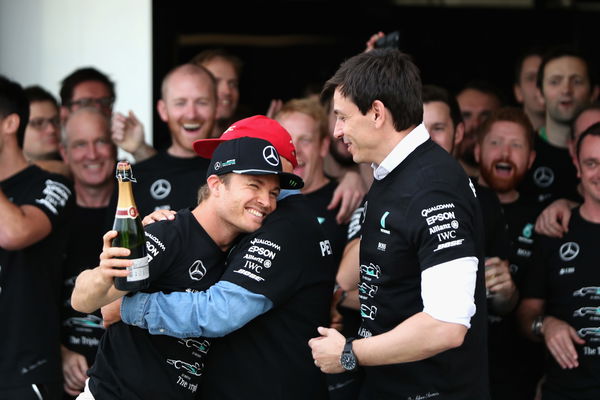 ---
---
Recently, a hilarious Mark Webber moment came to light through Channel 4, a British television program exclusively dedicated to F1. During the second standing start at Baku following Max Verstappen's heartbreaking moment, his title rival, Lewis Hamilton, too, locked his brakes as he drove off the track into the run-off area.
ADVERTISEMENT
Article continues below this ad
It was one of the most shocking moments of the race, and the former Red Bull driver's reaction said it all. While Alex Jacques kept himself composed and continued to commentate, there was Webber, who gave out a high-frequency-induced scream.
Rosberg Responds to Webber's reaction following the Lewis Hamilton shocker
ADVERTISEMENT
Article continues below this ad
F1 shared Channel 4's video of Webber screaming on social media. The caption read, "Mark Webber was all of us after the restart!"
And former world champion, Nico Rosberg, managed to catch a glimpse of the rather amusing video and gave out a hilarious response. "He better not call me Britney ever again after this one," the German said.
One can understand Webber's shock, as the whole of F1 fraternity would have had a similar kind of reaction to that moment. With Verstappen no longer a threat, Hamilton had the least amount of pressure hovering over his head.
It looked like Hamilton could reclaim the championship lead from the Dutchman, with a guaranteed P2 in hand.
However, what followed was a shocker. During the restart, the Briton unknowingly turned his brake switch off, which left him squandering off the track in turn 1. Ultimately, Hamilton came home in P15, which meant that neither of the title contenders scored a point in Baku.
The moment Mark Webber Turned Rosberg into 'Britney'
The German joined the F1 paddock in 2006, where he lined up alongside Webber at Williams. Considering the former's young looks and the blonde hair, Webber decided to name his teammate, Britney, in reference to the American pop star, Britney Spears.
ADVERTISEMENT
Article continues below this ad
What's more, this name-calling came to light during the 2006 Brazilian Grand Prix, when the duo crashed into each other and raced each other to the pits in a bid to get serviced first.
However, during the trip to the pits, Rosberg shunted his car into the wall, which ended his race. Meanwhile, Webber, who saw the entire event unfold in front of his eyes, took to his team radio to reveal the same. "Britney's into the wall," he told his race engineer.
ADVERTISEMENT
Article continues below this ad
Overall, will F1 continue to churn out such laughable moments for the fans amidst the ongoing intense rivalry between the drivers on the track? Well, let's hope they do.
Watch Story: Toto Wolff Swears, Valtteri Bottas Bares: Funniest Moments From Drive to Survive