Albon Teases Ricciardo & Verstappen With Reminder of Their Infamous 2017 Hungarian GP F1 Crash
Published 07/29/2021, 1:30 PM EDT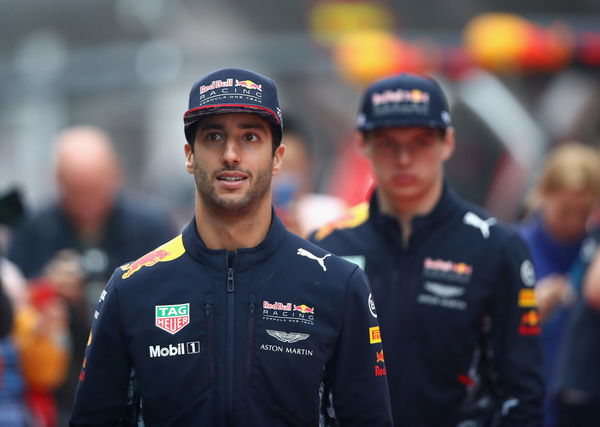 ---
---
Round 11 of the game at the Hungaroring. It is one of the more challenging circuits out there, but holds some very iconic moments of the sport. A battle between Senna and Prost, Alonso and Schumacher, and of course, Red Bull teammates Ricciardo and Verstappen. The two extremely competitive drivers crashed into each other at the 2017 Hungarian GP.
ADVERTISEMENT
Article continues below this ad
Former Red-Bull driver Alex Albon explained the layout of the circuit, highlighting its strengths and weaknesses. He cheekily labels the second turn of the circuit: "Start of the race, easy to crash. Just ask DR/MV." 
ADVERTISEMENT
Article continues below this ad
The two collided as they fought for the fourth position in the first lap of the race. The 19-year-old Dutchman broke Ricciardo's radiator while going into the turn. Daniel spun into retirement from the fluids from his RedBull a corner later.
Max and Daniel's 2017 Hungarian GP
The 'Maxiel' saga is extremely popular among fans, considering that the two Red Bull drivers had one of the best friendships on the grid. Even though Ricciardo left the team to join Renault in 2019, the two have been good friends off the track. On the track, however, the two have had their fair share of incidents.
The Hungarian GP only highlighted the genesis of the competition between the two. The Aussie had overtaken his teammate after Valtteri Bottas pushed Verstappen wide in turn 1. Daniel was ahead as they approached turn two, where Verstappen locked his breaks and ran into Ricciardo, breaking his radiator.
The FIA investigated the incident and Verstappen served a 10-second-time penalty at his pitstop. This resulted in him finishing fifth, 13 seconds behind race victor Sebastian Vettel.
ADVERTISEMENT
Article continues below this ad
Ricciard0 was furious as he called his teammate a "sore loser," on his radio. Post-race interviews saw a fuming Honey Badger as he said, "For sure I can go and call him names after the race but it's more how he will respond – if he acts like the age he is, or if he acts like a man about it and admits the error. If he starts bringing in some other kind of excuse, then we'll have some problems."
Luckily, Max immediately apologized after the race and explained the situation he was in. "It is never my intention to hit anyone, but especially not your teammate, and especially the relationship I have with Daniel." Clearly, the apology worked and the tensions between the two cooled down. The following year would see the two collide in Baku again, but looking at them now, the friendship is as bright as ever.
ADVERTISEMENT
Article continues below this ad
Alex Albon's detailed circuit shows how technical the race ahead is. It will be interesting to watch how the current dynamics within the grid play out at the Hungaroring this Sunday.
Watch this story: 5 F1 Crashes Which Stunned the World