AlphaTauri Fire Up their F1 Car: Hear the 2020 Honda Engine for the First Time
Published 02/09/2020, 11:56 AM EST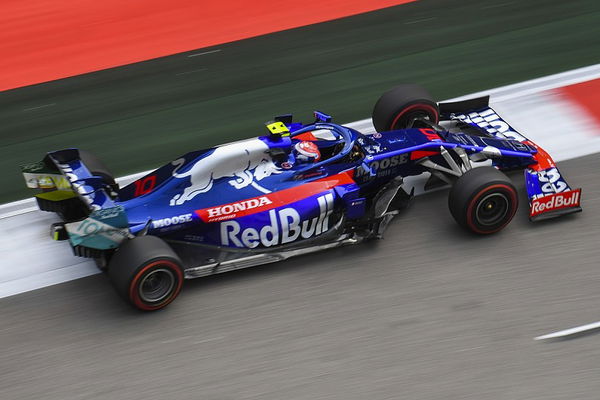 ---
---
AlphaTauri is the latest F1 team to fire up their 2020 car. The Red Bull junior team will be rebranded at its launch and fans are curious to see what the team will reveal.
ADVERTISEMENT
Article continues below this ad
AlphaTauri tease 2020 F1 car
Formerly known as Scuderia Toro Rosso, the Italian team applied for a name change in December 2019. In 2020, Toro Rosso will be called "AlphaTauri" owing to the fashion brand of the same name. The team has teased a radical new livery for 2020 and is one of the most anticipated car launches.
ADVERTISEMENT
Article continues below this ad
In a short clip posted on Torro Rosso's official YouTube channel, the 2020 car is fired up for the first time. Unlike Ferrari's fire up, the AlphaTauri is given generous revs. Additionally, the video also highlights the words- 'RA620H'.

RA620H is AlphaTauri's engine name. For the third season in a row, the team will be using Honda power.
Toro Rosso had an excellent season last year. The team captured two podiums and even managed to out drag a Mercedes. Furthermore, 2019 saw Torro Rosso collect its first podium in 11 years.
Torro Rosso to be rebranded
Torro Rosso retained its current driver lineup for 2020. Pierre Gasly and Daniil Kvyat will resume driving duties at the Italian team this season. Both drivers had a mixed-bag campaign in 2019, with short moments of brilliance being shadowed by on and off-track incidents.
ADVERTISEMENT
Article continues below this ad
Daniil Kvyat returned to F1 in 2019 after being dropped (ironically by Torro Rosso) for the preceding season. Kvyat had a fairly decent 2019, but his highlight was an unlikely podium at the German Grand Prix.
Pierre Gasly returned to Torro Rosso after the 2019 summer break. Gasly was demoted to Torro Rosso, following a dismal performance at Red Bull. The Frenchman had an excellent campaign despite the setback. Furthermore, Gasly redeemed himself at the Brazilian Grand Prix by claiming a maiden podium.
Toro Rosso will be rebranded AlphaTauri for 2020. 'Alphatauri' is Red Bull's fashion line based out of Salzburg, Austria.
ADVERTISEMENT
Article continues below this ad
AlphaTauri will unveil its 2020 F1 car on February 14 in Salzburg. Reigning champs Mercedes will also unveil its car on the same date in Silverstone.
F1 winter testing begins on February 19 and will take place in two stages. The 2020 F1 season kicks off in Melbourne on March 13. February is sure to be a treat for F1 fans with car launches and season 2 of Drive To Survive.