Scuderia Toro Rosso is officially dead. From today, the beloved Red Bull sister team will be called 'Scuderia AlphaTauri'. After weeks of teasing a new livery and name change, AlphaTauri finally launched its 2020 car. First impressions? The car looks stunning and is the best looking livery so far.
Torro Rosso is now AlphaTauri
While Ferrari opted for an orchestra themed approach, AlphaTauri decided to put up a fashion show before their car launch. In an awkward sequence that seemed out of place at a car launch, petrol heads had to endure several minutes of models showcasing AlphaTauri clothing.
In a cool lighting sequence, AlphaTauri highlighted parts of the livery before fully revealing the car.
Dressed casually, Pierre Gasly and Daniil Kvyat presided over the unveiling of the 2020 AlphaTauri car, confirming weeks of speculation. The AT01 features a radical new livery, completely different from the blue, red and silver F1 fans are accustomed to.
Toro Rosso definitely know how to hype car launches as this was the one, I was looking forward to the most. After weeks of posting teasers on their social media channels, Toro Rosso took it to a whole new level days before the launch.
The Italian team actually hung their car outside a mall in Milan! despite being covered, the car would have surely raised a few eyebrows among racing and non-racing fans alike.
Additionally, it makes sense for the team to choose Milan- the fashion capital of the world. For the unaware, in 2016, Red Bull launched a new fashion line called Alpha Tauri. The brand predominantly features darker colours, which is where the car draws its inspiration from.

the AT01 features a white and blue colour combination, reminiscent of the early 2000s Williams.
Now, with the covers finally off, the AT01 exudes stealth and looks like a menacing, serious contender. The midfield better watch out, there's a new kid on the block.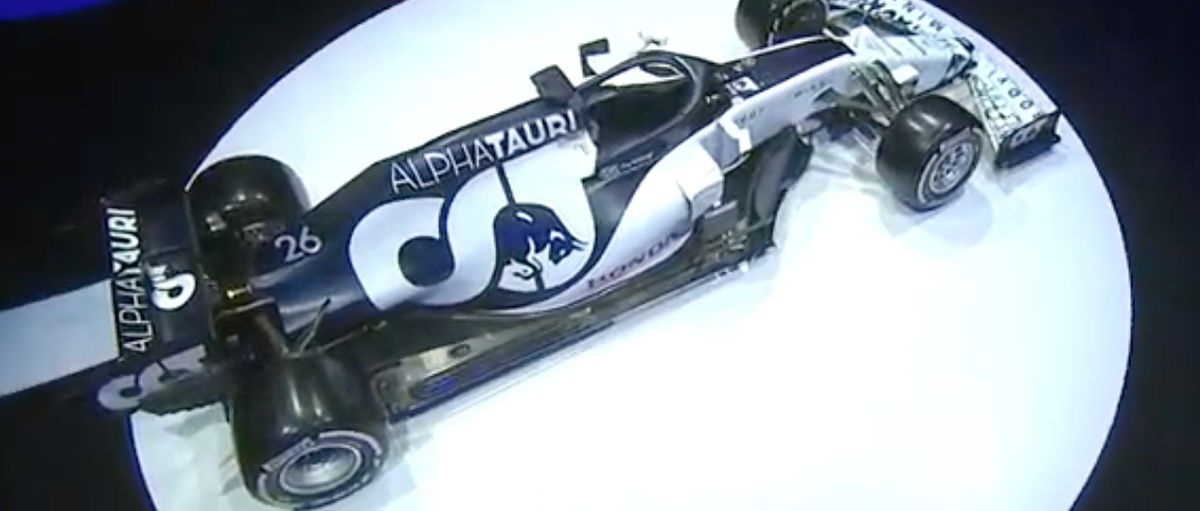 AT01- leaner, meaner and hungrier
AlphaTauri clearly wants to shed its former identity and this includes the car name. The team won't be using the traditional STR in its car name anymore, which has been replaced by AT. AlphaTauri christened its 2020 car as the AT01.
AlphaTauri will surely want to pick up where they left off. The team had one of its best years in F1 in 2019. The season began with one driver lineup and ended with a completely different one. However, despite Red Bull switching seats, the Italian team picked up 2 podiums and ended the year by out dragging a Mercedes at the Brazilian Grand Prix.
Furthermore, the AT01 will continue to use Honda power. The team showcased the engine roaring to life in a short teaser on their Youtube channel. The RA620H will be Honda's answer to challenge the likes of Mercedes, Ferrari and Renault.
With a new name, a new car and a new identity, AlphaTauri will be hoping to lead the midfield in 2020.