Alpine F1 Drop 2021 Car Name and Tease New Livery Ahead of Full Launch
Published 01/14/2021, 4:55 AM EST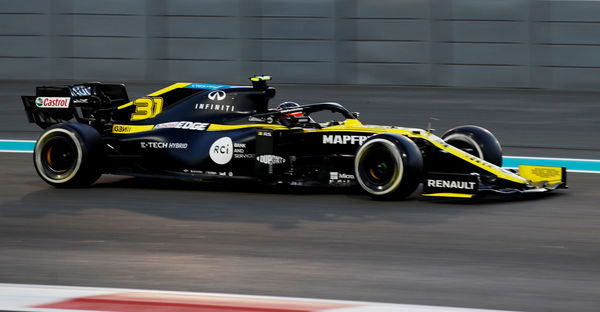 ---
---
Renault F1 are now moving into a new era as the team's rebranding to Alpine F1 is now well and truly underway. At a press conference on Thursday, the newly named Alpine team unveiled their 2021 F1 car. The machine, driven by Fernando Alonso and Esteban Ocon, will be called the A521.
ADVERTISEMENT
Article continues below this ad
The French team gave the press a sneak peek of the car's livery. It featured an all matte black body, with bands of blue, white, and red running diagonally across the back of the car. It also featured a large logo of the car brand.
However, this livery will only be temporary. It serves as a teaser to the full launch of the car. This full launch will involve the two drivers and will take place in February.
ADVERTISEMENT
Article continues below this ad
Antony Villain, Alpine's design director, said, "The livery presented today is the first evocation of the Alpine F1 team's new identity.
"Some of the structural graphic elements will remain on the racing livery while others will change. The 'oversized' Alpine emblem in a tricolor graphics system is the first clear-cut symbol of the brand's identity in motorsport.
"The blue, white and red refer to the colors of the French and British flags, which is very important to us. Numerous variations on all the motorsport assets are still to come."
What did the CEO of Alpine have to say?
The car manufacturer's newly appointed CEO, Laurent Rossi, said, "The new Alpine entity takes three brands with separate assets and areas of excellence to turn them into an empowered, fully-fledged business.
ADVERTISEMENT
Article continues below this ad
"The craftsmanship from our plant in Dieppe, the engineering mastery from our Formula One and Renault Sport teams will shine through our tech-infused, 100% electric line-up, taking the beautiful Alpine name to the future."
It'll be interesting to see if Alpine can continue to build on the success that Renault had last year. The team completed the 2020 campaign with 181 points and three podiums.
ADVERTISEMENT
Article continues below this ad
They'll be hoping to beat their mid-field rivals in 2021, and there is no reason to suggest why they be able wouldn't to do so. With two talented drivers, a solid car, and some refreshing faces in the paddock, Alpine will have reasonably high expectations from 2021.