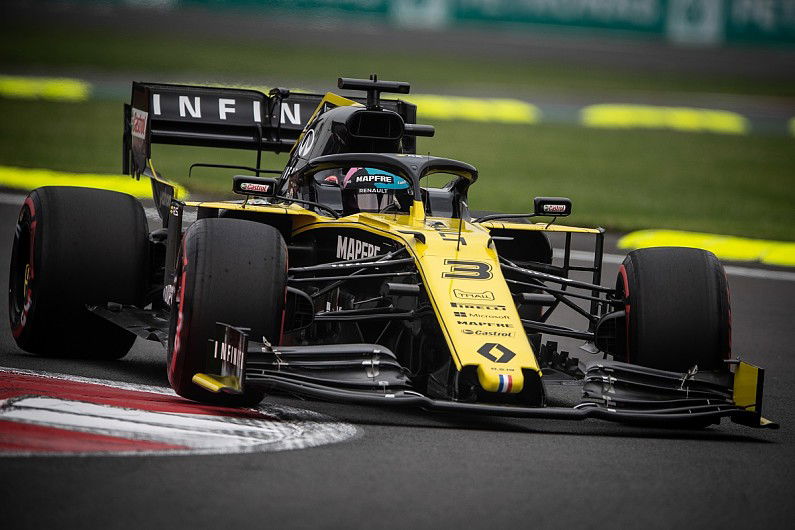 Renault has successfully completed initial laps of their shakedown. The French team released a photo of its 2020 car leaving the pits, but in a clever manner. Fans are yet to see the R.S.20 in all its glory and Renault are only amping up the new car through cryptic teasers.
Renault tease the R.S.20, again
The Enstone based outfit officially launched its 2020 challenger at an event in Paris. Unfortunately, the launch didn't involve a physical unveiling of the car. Instead, the team showed renders of the R.S 20 which left some fans flummoxed. The initial renders highlighted a tweaked design but were confirmed to be a testing livery.
Welcome to track life #RS20, your very first installation lap is… complete! #RSspirit #FilmingDay pic.twitter.com/YboIimL4Q0

— Renault F1 Team (@RenaultF1Team) February 17, 2020
Today the team completed a successful shakedown of the car and teased it yet again. Some may call it an ingenious move while some may feel underwhelmed. Renault released a monochrome picture of the R.S.20 leaving the pits. Furthermore, the team released a black and white video of the car hurtling down the straight at the Circuit de Barcelona.
👀🕵️‍♀️👀

Sound on. Definitely sound on. 💛#RSspirit #RS20 #FilmingDay pic.twitter.com/PYx8macj6T

— Renault F1 Team (@RenaultF1Team) February 17, 2020
The short clip highlights the R.S 20 blasting past and sounds comparatively better compared to last year's car. Initial impressions of the car suggest an unchanged livery. However, given the monochrome, Renault may be hyping something entirely different.
Although the French team has been low-key regarding the car, it has left a few fans unimpressed. Rumours suggested Renault had issues in the R.S.20, but the team have denied this and claimed things are on course.
Daniel Ricciardo and Esteban Ocon were present at the official car(less) launch. The duo seemed positive for 2020 and had different goals in mind. With Ricciardo looking to settle in and Ocon eager to get back in an F1 car as a full-time driver.
Speaking at the car launch, Ricciardo said: "With the people, I work closest with, it's about trying to find a way they work best, trying to help them be their best selves, and then also figuring out where I can perform the best on the day."
Ocon too had words of praise for the French team.
"We've had a lot of time to prepare, and I'm feeling ready for the challenge. I'm really looking forward to racing again – back where I want to be – after waiting for a year."
Renault lost out to Mclaren in 2019, but the French team have a strong driver pairing in Ricciardo and Ocon to help them get back on track.