Are Pierre Gasly and Esteban Ocon Friends?
Published 08/16/2021, 9:32 AM EDT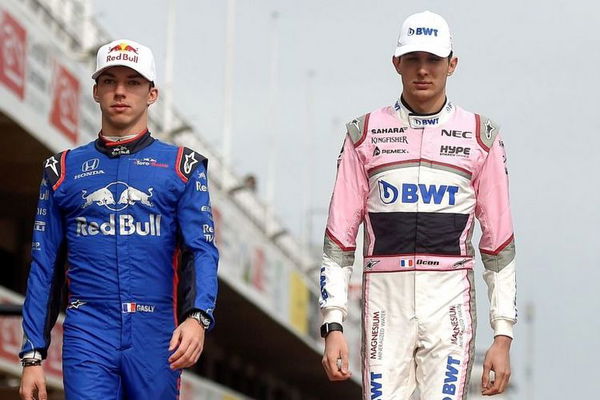 ---
---
Pierre Gasly and Esteban Ocon share the French flag on the grid. The two even shared their karting days, but it's well known that the compatriots do not get along with each other. Pierre explicitly stated: "we're not friends." But why not? What made things sour between the old friends for a duo that could potentially have a powerful bond?
ADVERTISEMENT
Article continues below this ad
ADVERTISEMENT
Article continues below this ad
Ocon and Gasly share the same birth year and were born in the same part of France. Inevitably, their junior careers were synchronized, and they saw a lot of each other in tournaments. So they have been in touch growing up. Although Ocon has said nothing about the topic, Gasly shared his experience with Ocon in the Beyond The Grid Podcast.
The beginnings of a good friendship
Pierre Gasly said that the relationship with Ocon wasn't always dreadful. They started their karting careers with the same engine manufacturers, which helped kick-start their friendship on the track. He recalled the times they spent karting as children. "We used go spend so much time together to train…. We did spend some fantastic times together."
He shared an anecdote remembering how close they were. In particular, he describes the two aspiring F1 drivers who spent their winters in the snow. Gasly described how he and Ocon would temporarily warm their hands to take 3-4 laps and continue then cycle; just two children driving in the snow on fresh slicks.
Gasly found a brother in Ocon when they were kids. He said, "[We were] almost like brothers because honestly, at the time when you're young, you need to drive all the time… and all the time together. I think in the end it was really good. It pushed us massively. We both have a really competitive mindset and, of course, we were really friends at the time and we really wanted to beat each other."
What went wrong between Pierre Gasly and Esteban Ocon
According to Gasly, the rivalry wasn't something new. "The relationship, unfortunately, got a lot worse at some point in karting when we started to fight for the World Cup, the European Championship, and also National Championship."  
Recollecting, Gasly says the relationship started going downhill in 2009. It was the Bridgestone Cup. Gasly tried to overtake Ocon on the last corner of the final lap, battling for P3; the two made contact in the process, which resulted in Ocon finishing fourth with Gasly ahead of him. He marks this as when their friendship hit the rocks, followed by another incident the following year, where Ocon collided with Gasly.
ADVERTISEMENT
Article continues below this ad
Gasly also mentions that the two stopped training together and that many more followed the 2009 battle. Gasly tried to save the sinking ship by talking to Ocon. "I tried to, on my side, keep the relationship as good as I could. I came to see him a couple of times to say 'okay, just stop these stupid things we are doing… just do your thing, I'll do my thing,'… he never really showed me he wanted to keep the relationship in a good way." 
Time hasn't healed Gasly's wound as he said, "I was waiting [for] apologies on his side, which never really came, so there's not much I can do." Gasly states Ocon disappointed him and wished to have some sort of mutual respect between the two; which was unfortunately lost.
ADVERTISEMENT
Article continues below this ad
Looking at the positive outcome, it only helped the two grow as Formula 1 drivers. While the two respect each other as drivers and just hold on to the times they spent together when they were young. Gasly is proud to see both of them competing in the big league, but unfortunately, they don't celebrate those achievements together.
Watch this story: F1 Drivers Fighting on Track