Aston Martin F1 Member Thanks Lewis Hamilton for 2008 Triumph With McLaren
Published 11/03/2021, 7:47 AM EDT

Follow Us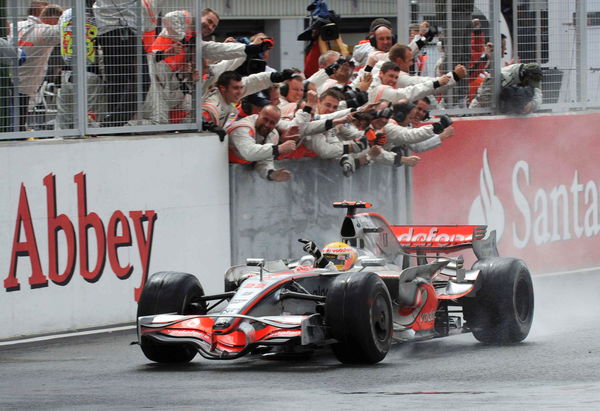 Lewis Hamilton's journey to equaling Michael Schumacher's record began exactly a year ago. In his second year in the sport, the Briton had become a world champion. In what a truly exceptional finish, the celebrations in the McLaren garage were loud and boastful as the team welcomed their seventh world champion. Matt Bishop, an F1 journalist, shared his experience with the joyous team.
Bishop, who is now the Chief officer for communications in Aston Martin, was formerly a part of the McLaren family. 'The Bish' also worked closely with Lewis Hamilton in his final season with McLaren. Thus, the journalist found himself amid the championship celebrations in 2008, one he recalls with great detail.
ADVERTISEMENT
Article continues below this ad
Bishop took to Twitter to thank Hamilton, the man responsible for the smiles across the McLaren garage.
"We old McLarenites should pause to say thank you, dear Lewis, once again, for 2 November 2008, the best day of my professional life, when we shouted ourselves hoarse in the Interlagos garage as that amazing last lap unfolded, & you became F1 world champion."
Although Lewis went on to leave his debut team after the 2008 season, he remains McLaren's most recent titleholder.
Lewis Hamilton and the 2008 race in Brazil
The hubbub of the final laps of the 2008 Brazilian GP remains unmatched. Felipe Massa crossed lead the race from the pole position; the Brazilian was the first to meet the checkered flag at his home race. However, as Ferrari celebrated their champion, Lewis Hamilton swooped in to take the crown, outscoring Massa by a single point.
The disappointment in Ferrari's garage contrasted the uproar at McLaren. However, as Bishop thanked the 2008 champion, he also lauded Felipe Massa for the way he responded to the heartbreak.
ADVERTISEMENT
Article continues below this ad
Bishop recalled, "He did everything he possibly could: he won his home GP from pole, he thought he was world champion for about a minute, then he behaved with restraint & dignity when he was hurting like crazy inside. True sportsmanship."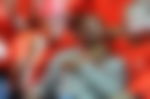 What Massa hoped to be a grand celebration with his home crowd had a bittersweet ending. Although he won the race for the second time, the crown had Hamilton's name on it. Nonetheless, Massa will remain an essential name in the sport's hist0ry.
ADVERTISEMENT
Article continues below this ad
For Hamilton, however, the journey that began 13 years ago, has reached a crucial point in 2021. Michael Schumacher's record of 7 titles, having been equaled last season, is waiting to be broken. However, with Max Verstappen standing between him and making history, will Hamilton extend his legacy in 2021?
Watch this story: Lewis Hamilton: Ranking His F1 World Titles From 2008 to 2020