Azerbaijan Grand Prix: Who is F1 Cameraman Thomas Bonnecarrere?
Published 06/02/2021, 11:52 AM EDT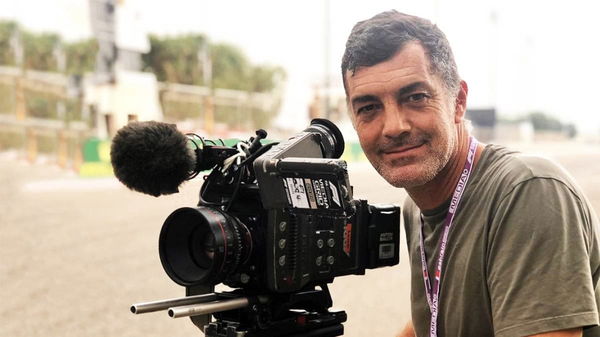 ---
---
In a spot of tragic news, F1 cameraman Thomas Bonnecarrere passed away suddenly. While nobody knows the cause of death, it is understood that he passed away around May 25, at the age of 49. TF1 journalist and friend, also the wife of former F1 driver Romain Grosjean, Marion Jolles Grosjean confirmed his passing on social media.
ADVERTISEMENT
Article continues below this ad
Bonnecarrere was a hugely experienced cameraman, who has covered several motorsport disciplines, including the likes of Formula 1, World Endurance Championship, World Touring Car Championship, and MotoGP. It is also interesting to note that his first tryst with the motor racing world came in the MotoGP arena. Additionally, the 2021 Monaco Grand Prix was his last ever assignment before he died.
Get to know F1 cameraman Thomas Bonnecarrere
ADVERTISEMENT
Article continues below this ad
Among other ventures, Bonnecarrere also worked with French TV channel Canal+. Coming to his early life, his father was Jacques Bonnecarrere, the AutoMoto show producer. He came from a very rich automobile background, which provided the perfect springboard to his career.
Personality-wise, the late cameraman was renowned for his professionalism, humor, and motorsport love. Due to his line of work, he has been in contact with numerous F1 and motorsport journalists. As a result, many of them paid tribute to him on social networks, led by Jolles, Romain Grosjean's wife.
 

View this post on Instagram

 
She wrote, "This tall man, with the irresistible smile, who holds the camera. Tall in size, tall in talent … His name was Thomas Bonnecarrère, and was filming, at that precise moment, our wedding. He accompanied me in my first reports for Automoto. Because we had chosen him out of affection, but also because we wanted the best to immortalize our cherished memories.
"We will miss you so much, Thomas.
ADVERTISEMENT
Article continues below this ad
Our wedding film; I will always look at him thinking of you from now on.
Heartache today, friends."
Without a doubt, many in the F1 and all-round racing community will be saddened at the news of Bonnecarrere's passing. We hope he rests in peace, and our hearts and prayers go to his loved ones.
ADVERTISEMENT
Article continues below this ad