Medical Car Driver Reveals Romain Grosjean Started 'Moving' Immediately after Terrifying '53G' Impact
Published 12/01/2020, 4:07 AM EST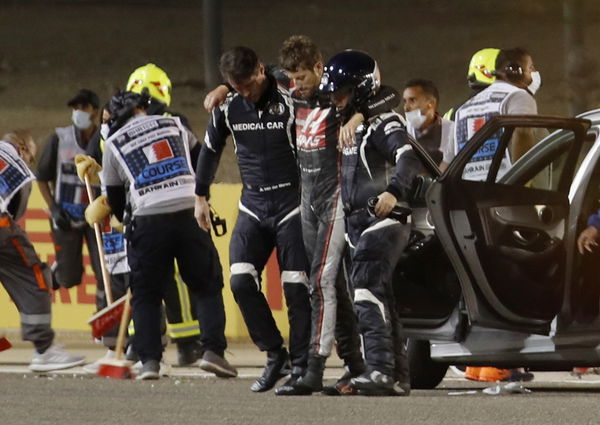 It was just another day at work for Alan van der Merwe, as he followed the Formula 1 cars after lights out. However, just a couple of turns later, it all turned haywire, as he found himself on a rescue mission, where he had to retrieve Romain Grosjean from a blazing Haas car.
ADVERTISEMENT
Article continues below this ad
Although the entire F1 community hailed him as a hero, Alan spoke about something that surprised him during that incident.  He was shocked to see Grosjean conscious and trying hard to get out of the car despite the massive impact.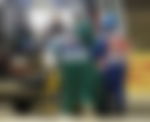 During a podcast, Alan was asked if Grosjean was moving after the impact. "Yes," Alan replied while featuring in the F1 Nation podcast. "In fact, we were seeing the on-car footage. As soon as the impact is done, and he's come to rest, he is getting himself out, which is absolutely incredible.
ADVERTISEMENT
Article continues below this ad
"53G recorded on the ADR and he was still conscious and he wanted to get out of there."
Apparently, Alan was clueless as to what was going on when he first approached the scene. He could see just one half of the car and was left wondering where the other half was, and where the driver was.
Medical car driver reveals "instinctive thinking" helped him retrieve Romain Grosjean safely
The preparedness of the entire team, the marshals, the arrival of the medical car, and the ambulance played a huge part in getting Grosjean safe to the hospital. However, preparedness wasn't the only reason behind their spontaneous actions.
ADVERTISEMENT
Article continues below this ad
"We do a lot of checklists and a lot of scene prep, talking about scenarios, but this was crazy," Alan said. "Honestly, to get there and see half of the car, and the other half nowhere to be seen and a huge ball of flame. You have literally seconds. You're thinking on your feet.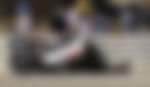 "So preparation only gets you so far. And after that, there's a lot of sort of instinctive and quick thinking."
ADVERTISEMENT
Article continues below this ad
Luckily, his eyes locked onto Grosjean, as the Frenchman was fighting the fire to get out of the car. Eventually, as Grosjean got out, Alan lent his hand and helped Grosjean jump over the barriers, while the marshals sprayed the extinguisher all over his body.
Thankfully, Grosjean escaped with minor burns and will take a weekend off from racing at the Sakhir Grand Prix. However, the question is, will he return to Abu Dhabi Grand Prix, in what could be his final race weekend in Formula 1?