Mick Schumacher Settles for P4 as Daruvala Holds His Nerve in Thrilling End to Bahrain F2 Race
Published 11/28/2020, 5:34 AM EST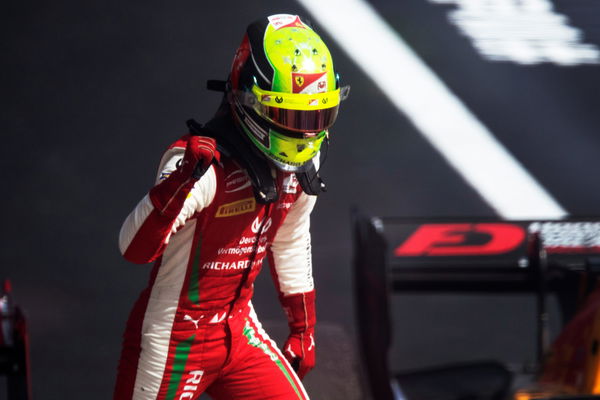 Felipe Drugovich won the feature race of the Bahrain Grand Prix, as the championship leader, Mick Schumacher, missed out on the podium by a whisker to Jehan Daruvala; The Indian secured his first podium in Formula 2.
ADVERTISEMENT
Article continues below this ad
Drugovich took his lead, going into turn 1 at the start, which he managed to hold on to until the end of the race. His dominance was clearly evident as the Brazilian crossed the checkered flag with a lead of more than 14 seconds over Callum Ilott.
Mick, on the other hand, had a considerably good race. He enjoyed a dramatic fight with Daruvala at the very end of the race. Despite giving his best, he had to settle for P4. Although he had a decent race, he would still be concerned that his lead to Ilott has now come down in the driver's table.
ADVERTISEMENT
Article continues below this ad
How was the race for Mick Schumacher in Bahrain?
Mick lined-up in P10 on the grid alongside Lundgaard. However, it never really was an obstacle for Mick as a blistering start saw him climb his way up to P5 by turn 4. What's more, Mick's championship rival, Callum Ilott, had a poor start as he ended up losing his lead to Drugovich going into turn 1.
On lap 2, Mick got his nose into the top 3 by making a brilliant move on Armstrong going into turn 1. However, a mild lock-up going into that turn meant Armstrong retook his position in just a few seconds. Since then, Schumacher was stuck behind him for over eight laps.
Eventually, Mick saw some light at the end of the tunnel, as he had a struggling Ilott right in front of him. To boost up his lead in the championship table, Mick got himself past the Briton on the main straight with the help of DRS.
In the very same lap, Armstrong locked up his tires, leaving the door open for Mick to snatch the P2. This move was followed by a rather quiet race for Mick. However, that only lasted for about 12 laps as his race engineer asked him to pit on lap 20.
Mick messed up his final sector before going into the pits. Despite the crew giving their best, Mick, while joining the track, got himself stuck behind a bunch of cars on older tires. From there, it was all about catching up with the front-runners for Mick, which he did well.
ADVERTISEMENT
Article continues below this ad
Mick Schumacher vs Jehan Daruvala
The real drama started with just three laps left in the race. By lap 29, Mick was right on the rear wing of Daruvala, as the fight for P3 went down the wire.
Mick, on several occasions, used the DRS to get past the Indian. Unfortunately, he never managed to complete the move, as Daruvala kept getting his late-braking maneuver perfectly.
ADVERTISEMENT
Article continues below this ad
In the end, Daruvala defended brilliantly, as Mick had to give up his hopes of getting onto the podium. Ahead of these two, there was Drugovich, who won his third race of this season, followed by Ilott, who portrayed an incredible second stint to regain his second position.
Ilott's decent race has now increased his prospects of getting past Schumacher Jr in the championship table. However, will the Briton manage to end this season ahead of Mick? Or will Mick crush Ilott's hopes by as early as tomorrow in the sprint race?