Twitter Reacts to Romain Grosjean's Chilling Crash at the Start of the Bahrain GP
Published 11/29/2020, 10:59 AM EST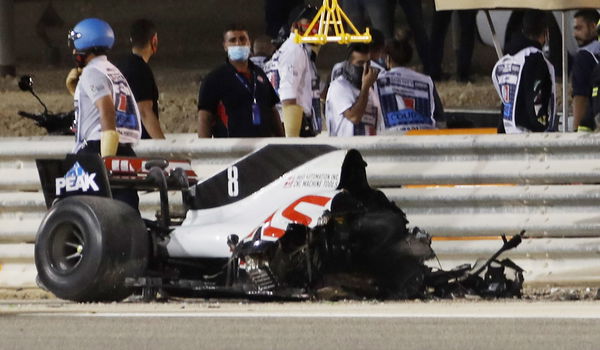 It has been a chaotic start to the race at Bahrain Grand Prix. However, all eyes were on Romain Grosjean, who slammed his car into the barriers, as the Haas burst into flames.
ADVERTISEMENT
Article continues below this ad
UPDATE: Romain has some minor burns on his hands and ankles but otherwise he is ok. He is with the doctors just now.#HaasF1 #BahrainGP

— Haas F1 Team (@HaasF1Team) November 29, 2020
ADVERTISEMENT
Article continues below this ad
Luckily, Grosjean was awake following the extremely hard impact and was able to jump out of the car on time. Apparently, he escaped the near-fatal incident with minor burns and suspected broken rib[s].
Race start by Romain Grosjean
Grosjean had a decent start to the race and almost got himself near the top 10. However, the Frenchman did not know that the nightmare was yet to come his way.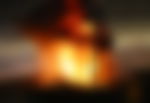 He had a brilliant exit out of turn 3, and hence, used the slipstream of the car ahead. Grosjean found a gap to his right and went for it. Unfortunately, it looked like he never realized Daniil Kvyat was right next to him.
The AlphaTauri driver watched Grosjean shift rapidly onto his side and tried his best to avoid a collision by leaving the track. However, it wasn't enough as he ended up clipping the Haas's rear.
Grosjean lost his rear and crashed into the barriers. What's shocking is the car burst into flames, as the circuit lit up with fire, and the stewards wasted no time in bringing out the red flag.
Medical car driver's heroics saves Grosjean
The medical car driver, Alan van der Merwe, jumped right into action the moment he halted his Mercedes car. He ran towards the accident spot and helped Grosjean get over the barriers.
Thank you to Medical Car driver Alan van der Merwe, the circuit medical team and marshals for their quick thinking and actions in getting to Romain so soon after the accident 🙏 pic.twitter.com/hkUChcweeq

— Haas F1 Team (@HaasF1Team) November 29, 2020
Eventually Merwe and one of the marshals helped the Haas driver walk to the medical car, and made him sit on the track for medical checks.
Haas' team principal, Guenther Steiner, witnessed the medical car driver lending his hand to help Grosjean and walked to Merwe to thank him for his timely assist.
"I want to thank the rescue crews, who were very quick. The marshals and the FIA people did a great job. It was scary," Steiner said.
How Twitter reacted to Grosjean's life-threatening crash
Grosjean is out of the car and OK, now in the medical car heading back to the paddock – thank god! #F1 #BahrainGP

— Luke Smith (@LukeSmithF1) November 29, 2020
ADVERTISEMENT
Article continues below this ad
ADVERTISEMENT
Article continues below this ad