"Best To Not Race at All": Top Gear's Jeremy Clarkson Shares Cruel Take On F1 Monaco GP 'Sh*tshow'
Published 05/29/2022, 3:22 PM EDT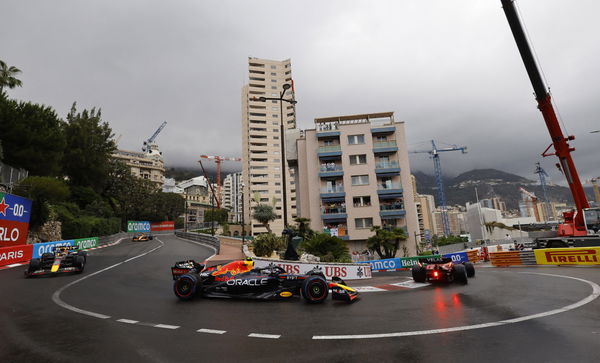 The seventh race of the 2022 F1 calendar ended with Sergio Perez winning the third race of his career. But the prestigious race in the principality was full of drama, like a late start, then a red flag, and finally some great action in the final laps of the Monaco GP.
The Monaco GP is one of the most challenging tracks in the F1 schedule, and because of its history, it is one of the "Triple Crown of Motorsport." However, many fans don't like this tough track, as sometimes the Monaco race gets a bit dull due to the lack of overtaking and wheel-to-wheel action. Some fans even want this track to be no longer part of the F1 calendar.
ADVERTISEMENT
Article continues below this ad
Monaco GP annoyed the English broadcaster
The race directors delayed the Monaco GP because of the weather conditions. The sky was full of dark clouds on race day, and FIA wanted to start the race when the weather got better to avoid any serious accidents during the race.
But many fans and experts didn't like the delay. English broadcaster and motorsport expert Jeremy Clarkson even went on to say that there shouldn't be any race. Clarkson said, "If safety is this important in F1, it's probably best to not race at all."
WATCH THIS STORY: F1 Drivers Fighting on Track
Later, when the race started, the drivers had to follow the safety car on wet tires. So there was no action on the track, and cars could not pull off any overtakes. "I'm watching the cars on the road outside my house. It's more interesting than this Monaco shit show," tweeted the annoyed broadcaster.
Clarkson enjoyed the final laps of the Monaco race
The Monaco race got thrilling in the latter half when the drivers started pushing. Checo led the race while Carlos Sainz was pushing from behind. Further, homeboy Charles Leclerc dropped to P4 from the pole and tried to get into the podium, taking the P3 from Verstappen.
ADVERTISEMENT
Article continues below this ad
After the race, Clarkson revealed that he liked the last laps, when the Monaco GP actually got competitive, and drivers were pushing to gain positions. Jeremy wrote, "Exciting race though, when they finally let them do it."
ADVERTISEMENT
Article continues below this ad
The next race of the 2022 season is the Azerbaijan GP, which had quite a bit of drama last year, with Max blowing his tire on the pit straight and Hamilton going into the runoff area, losing positions. What do you expect from the upcoming race in Baku?
Edited By: Ranvijay Singh