Bottas Puzzled by Russell's "Rage" After High Speed Imola F1 Crash
Published 04/18/2021, 1:10 PM EDT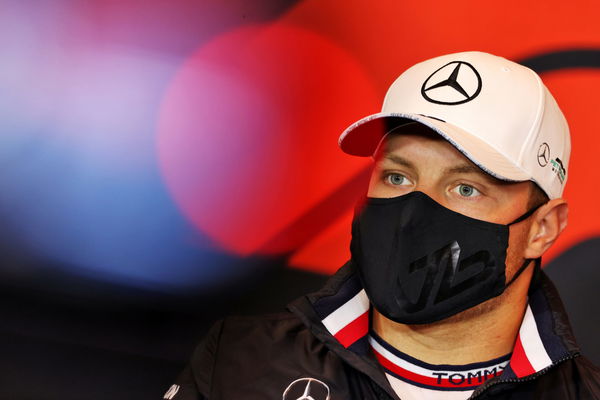 ---
---
The dramatic Emilia Romagna Grand Prix race witnessed a rather massive shunt between Williams' George Russell and Mercedes' Valtteri Bottas. What's interesting was the reaction from the Williams F1 driver, who called the Finn a "fu**ing pr**k" for causing such a chaotic accident.
ADVERTISEMENT
Article continues below this ad
Did he stop there? No. While Bottas was still in his cockpit, recovering from the hefty impact, Russell walked to the wrecked Mercedes car and spoke something that provoked Bottas to show the finger.
So, was such a reaction necessary from Russell? Well, Bottas doesn't think so. Moreover, Bottas claimed that it was entirely Russell's fault, who "lost it" and crashed into his car that ultimately led to a much bigger disaster.
ADVERTISEMENT
Article continues below this ad
What did Valtteri Bottas say?
Following the F1 race, Bottas opened up that the move from Russell made no sense, as he felt that there was not enough space for another car to squeeze in.
"Yeah, I'm okay. It was a half-decent chance. Obviously could have been a lot worse at that speed," he said. "From my point of view, I stopped for the dry tires and it was a bit of a struggle. Took time to get them to work. And George got close and decided to go for a move.
"Obviously, the track is quite narrow. There's only one dry line and he went from the outside. There was space all the time for 2 cars but didn't make any sense, that move. He obviously lost it and hit me."
Despite Russell's brief outburst, Bottas managed to avoid the reciprocation of such reaction, as he kept his composure. But of course, Mercedes will most likely step in soon to try and solve the uneasy situation between the two drivers.
I haven't spoken: Mercedes F1 driver
Bottas opined that he couldn't understand the rage from Russell, as the former felt that the Williams driver was entirely to blame for the incident.
"I haven't spoken, I couldn't hear a thing what he was on about. I don't really get it. It was clearly his fault. I don't understand the rage," he said.
ADVERTISEMENT
Article continues below this ad
Overall, the incident did look like Russell's fault, as Bottas never really switched or swerved across the track at any point and stuck to his racing line. Ultimately, it was too late when Russell realized that there wasn't room for him to jump past Bottas.
His car ended up clipping the grass that triggered his rear to give up and ultimately collected Bottas' Mercedes along with him to the barriers.
But let's hear it from you – Who do you think was at fault – George Russell or Valtteri Bottas? Or was it just a racing incident?
ADVERTISEMENT
Article continues below this ad