Bottas Takes Turkish GP Win as Hamilton Fumes at Mercedes F1's Strategic Error
Published 10/10/2021, 9:35 AM EDT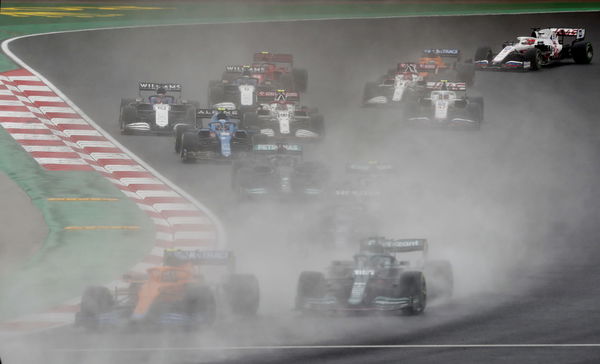 ---
---
Valtteri Bottas finally ended his massive winless streak by securing his first-ever F1 race victory of the season at the Turkish GP. Behind the Finn arrived the now championship leader, Max Verstappen.
ADVERTISEMENT
Article continues below this ad
Sergio Perez drove an impeccable race to claim the final podium spot, gaining the first double podium for Red Bull since Austria.
Lewis Hamilton had one goal in the race, damage limitation, which he almost executed perfectly. However, a poor tire strategy meant that he couldn't see off his race in the top 4.
ADVERTISEMENT
Article continues below this ad
Hence, despite the decent drive through the field, Hamilton has lost his lead yet again to his title rival; Verstappen is now 6 points ahead of the seven-time world champion.
How the Turkish GP unfolded
F1 race start at the Turkish GP
Bottas had a brilliant getaway along with the other front-row starter, Verstappen. Gasly, too, had a decent start but ended up causing an incident with a late-braking Alonso. The latter spun around and rejoined the track in P17.
But Alonso's misery wasn't over yet, as the Spaniard reciprocated the incident with Schumacher. Only in this case, it was Schumacher who took the beating and found himself stranded in P19. On lap 9, the stewards handed Gasly a 5-second time penalty for causing a collision with Alonso.
And a lap later, Alonso received his share of penalty for causing the Schumacher spin.
Hamilton & Sainz charge through the field at Turkish GP
Both Hamilton and Sainz had decent starts at lights out and were constantly putting in good enough lap times to challenge the race leader. But both the drivers had a bunch of cars to get past, and boy, did they make it so simple!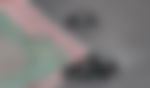 By lap 15, both Hamilton and Sainz were inside the top 10. While the Briton was in P5, chasing after Perez, Sainz was in P10 hunting down Tsunoda and Stroll.
Contrastingly, Verstappen showed visible struggles with his race pace, but was he actually struggling? No, the Dutchman was busy managing his tire temperatures, and it wasn't until lap 16 that he unleashed the real pace of the Red Bull.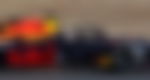 First round of pit-stops
Ricciardo was the first driver to enter the pits on lap 22 for a new set of intermediates. However, his gamble just wasn't paying off initially, especially with the track steadily drying out. However, with each passing lap, Ricciardo became quicker and quicker, offering others the required data on how new tires work.
On lap 32, Alonso opted for a new set of intermediates, but not before stalling in his pit box for 5 seconds to pay off his penalty. 3 laps later, the other McLaren of Norris pitted for intermediates and rejoined the track in P9.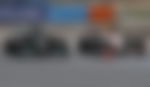 And on lap 37, it was Verstappen's turn to get himself a fresh set of green-marked tires. Sainz had a terrible 8.1s stop. Shockingly, Vettel opted for medium tires which horribly backfired, as he had to scramble his way back to the pits on the very next lap for a set of inters.
Hence, from P10, the German ended up in P19, one lap down.
Battle for the win
Leclerc and Hamilton remained adamant against switching to new intermediates. The former was indeed paying the price by running wide off the track a couple of times, letting Bottas close in much easier. And by lap 47, the Finnish driver found himself back in the lead.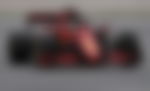 Soon, Leclerc pitted after putting up a massive 48-lap stint on the intermediates. And the chase after Hamilton started off. The Monegasque, with each passing lap, pulled out a chunk of a gap to the Briton. But, on lap 51, Hamilton pitted, which ended up being a bit too late to claim a podium.
Leclerc faced a significant threat from Hamilton, but as the latter's tires starting going through the graining stage, the Monegasque managed to pull away. Gasly claimed P6 behind Hamilton, with Norris claiming yet another top 10 finish for McLaren, continuing his incredible run this season.
Sainz claimed P8 for Ferrari along with the 'Driver of the Day' for his fight through the field from P20. Stroll and Ocon picked up the remaining scraps to gain the share of 3 points.
Special credit must go to Ocon, the only driver on the grid who drove his entire race on a single set of tires.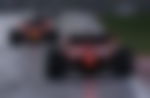 Updated F1 drivers' standings
ADVERTISEMENT
Article continues below this ad
Max Verstappen – 262.5
Lewis Hamilton – 256.5
Valtteri Bottas – 177
Lando Norris – 145
Sergio Perez – 135
Carlos Sainz – 116.5
Charles Leclerc – 116
Daniel Ricciardo – 95
Pierre Gasly – 74
Fernando Alonso – 58
Esteban Ocon – 46
Sebastian Vettel – 35
Lance Stroll – 26
Yuki Tsunoda – 18
George Russell – 16
Nicholas Latifi – 7
Kimi Raikkonen – 6
Antonio Giovinazzi – 1
Mick Schumacher – 0
Nikita Mazepin – 0
Updated F1 constructors' standings
Mercedes AMG (Mercedes) – 433.5
Red Bull Racing (Honda) – 397.5
McLaren (Mercedes) – 240
Scuderia Ferrari (Ferrari) – 232.5
Alpine (Renault) – 104
Scuderia AlphaTauri (Honda) – 92
Aston Martin Racing (Mercedes) – 61
Williams (Mercedes) – 23
Alfa Romeo Racing (Ferrari) – 7
Haas (Ferrari) – 0
ADVERTISEMENT
Article continues below this ad
Overall, another F1 race with rain playing a crucial part in the outcome of the result. Now, we head to the United States in a couple of weeks' time. So, can we anticipate another dramatic race at the COTA?
Watch Story: Most Controversial Turkish GP Moments of All-Time Feat Vettel-Webber F1 Crash