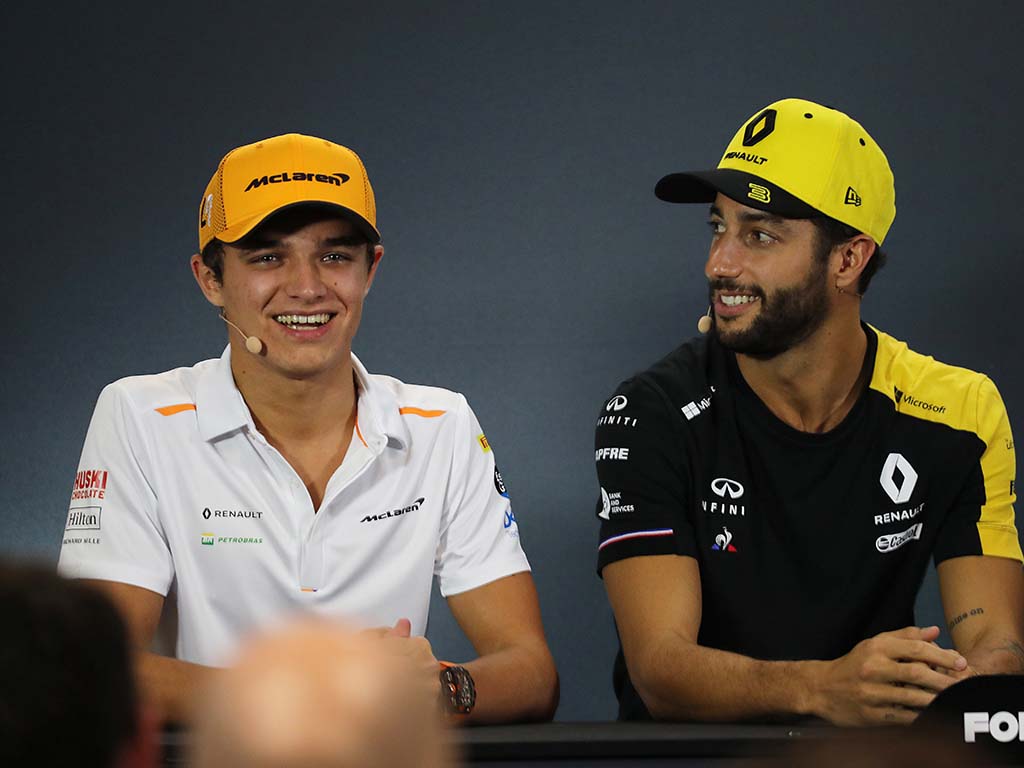 What happens when you bring two of the funniest F1 drivers within 500 feet of each other? The straight answer is 'Pure Hilarity', and Lando Norris and Daniel Ricciardo have proven it on multiple occasions.
At the recently concluded British Grand Prix, Norris performed a sneak attack on Ricciardo.
After the race finished, the Australian was just about to get out of his car when a gloved hand bonked him on the helmet. The owner of that hand was none other than Norris, who did it just for a laugh.
Now, the McLaren team must probably be groaning and thinking, 'Great… there's two of them now.'
No one:@LandoNorris: 𝘽 𝙊 𝙉 𝙆#BritishGP 🇬🇧 #F1 pic.twitter.com/lFEvcwt9qC

— Formula 1 (@F1) August 3, 2020
This isn't the first time Lando Norris and Daniel Ricciardo tangoed
When Norris made his F1 debut last year, he endeared himself to the fans for his off-track antics and social media presence. Before him, Daniel Ricciardo took on the role of the resident jokester, and people loved him for it.
So when F1 brought the two of them in one room for the first time at the 2019 British Grand Prix, the results were spectacular.
When the drivers were asked about facial hair, Ricciardo made an offhand comment aimed at Lando Norris. He asked him whether he had grown any pubes yet, and that was enough to make the Briton lose all composure.
The youngster melted into a puddle of laughter, much to everyone else's amusement, while Ricciardo looked quite proud.
Later on, at one particular race weekend, Lando Norris and Alex Albon were horsing around in Russia. While Norris and Albon were walking side-by-side, the McLaren driver bumped the Thai driver into a distracted Ricciardo.
At the time, the Renault driver was in an interview and barely reacted to the bump. However, he was aware of the interruption and exchanged a few words with the guffawing culprits.
ALSO READ- F1 Throwback: Relive the Funniest Press F1 Conference of 2019 Involving Ricciardo and Lando Norris
SOURCE- Formula 1- Twitter