Calm and Composed Sebastian Vettel Once Gave a Stone Cold Reply to a Question Doubting the Makings of a Champion
Published 11/22/2022, 12:25 PM EST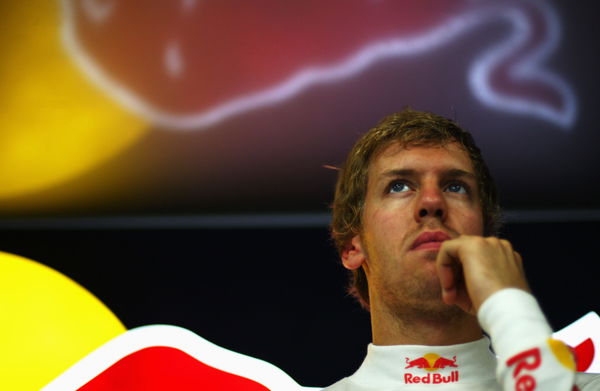 Sebastian Vettel is undoubtedly one of the most successful drivers in Formula 1. Being one of the top drivers in the sport, he was always asked by people about his secret to success. While many pointed out his relatively stronger car during his championship-winning seasons with Red Bull, Vettel defended his place subtly.
ADVERTISEMENT
Article continues below this ad
In 2012, during his Red Bull days, Vettel was once asked, "How does it feel for you hearing people say 'oh, I'd like to see him in a different car, I'd like to see him in a worse car'? Does that demotivate you or motivate you to just prove everybody wrong?"
ADVERTISEMENT
Article continues below this ad
To this, Vettel replied, "I think it's natural to start in a weaker car, I think we have all been in that situation. Michael [Schumacher] started in a Jordan which wasn't competitive but he set some highlights, Fernando [Alonso], I think started in a Minardi, set some highlights"
"Obviously in my case, I started with the BMW, replacing Robert [Kubica] for one race, which was a great chance and then afterwards I got the seat in Toro Rosso, which at the time was not a very competitive car but I think we did a very good job and even won a race," further asserted the Aston Martin driver.
Sebastian Vettel started his F1 career with BMW Sauber in 2006 and went on to join Toro Rosso the next year. The German maestro joined Red Bull in 2009. After spending six years with them, he joined Ferrari in 2015.
In 2021, the 35-year-old joined Aston Martin and retired after his 299th race start in Abu Dhabi this past weekend.
Sebastian Vettel emphasized how an inferior car can never make a driver competitive
During the same interview, the former BMW driver also conveyed how an inferior car can never be competitive. For this, one can take the latest example of Max Verstappen and Lewis Hamilton. Verstappen dominated the 2022 season, whereas Hamilton, the winner of 103 races, went without a win.
ADVERTISEMENT
Article continues below this ad
Talking about this, Vettel back then said, "Well I think if you look back, I don't know how far, but as far as I can look back, I think there was never people, y'know, really, really successful in a really bad car."
"I think you always… I think it's a natural thing to happen that one day you have strong drivers in a strong team so you end up with a strong combination and then obviously that is difficult to beat," concluded the 35-year-old.
ADVERTISEMENT
Article continues below this ad
WATCH THIS STORY: "It's Broken Me and Built Me" – Lewis Hamilton Puts Into Words the Turmoils of F1
The recently concluded Abu Dhabi Grand Prix saw Sebastian Vettel get behind the wheel for the very last time in his career. Before he retired, Vettel won four back-to-back driver's championships from 2010 to 2013. During these four years, the German was almost unbeatable at Red Bull.
Edited By: Ranvijay Singh