Carlos Sainz Enquired Why Mclaren Didn't Copy Mercedes Just Like Racing Point
Published 03/09/2020, 1:00 PM EDT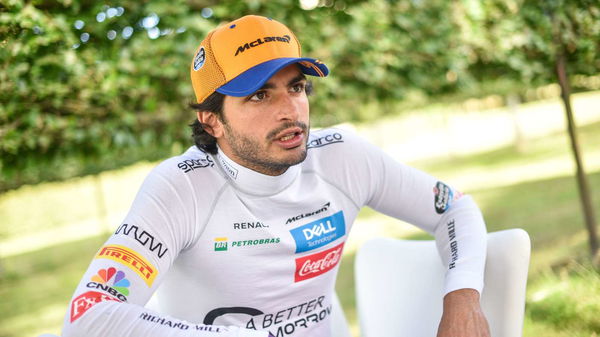 ---
---
Carlos Sainz has uncovered he asked McLaren F1 for what good reason they weren't duplicating Mercedes F1 as Racing Point F1 has done with their 2020 vehicle.
ADVERTISEMENT
Article continues below this ad
The RP20 is named as the 'pink Mercedes'. It has created a significant ruckus in the Formula 1 enclosure. Racing Point ditched their own way of thinking for following their engine providers on their improvement way.
In view of testing, the Silverstone-based group seems to have pulled off a masterstroke by putting together the current year's vehicle with respect to last season's title-winning W11, with the two autos having a similar motor and gearbox.
ADVERTISEMENT
Article continues below this ad
That has demonstrated disputable with especially their midfield rivals, with Sainz in any event, standing up in Barcelona, yet he confesses to being interested why his own group wasn't doing likewise.
Above all, Carlos Sainz has moved in the opposite direction from any proposal that Racing Point's 2020 vehicle, named the 'pink Mercedes' by numerous individuals in the enclosure, maybe illicit.
Carlos Sainz questioned his engineers about copying the W11
"I asked my engineers 'Why don't we copy Mercedes too?' and they told me it's impossible. I believe them and I'm not going to say anymore," he said.
Clarifying those comments, however, the Spaniard insists he believes Racing Point's car is within the regulations.
"I never questioned the legality of that car," Sainz told Marca.
"What I talked about was the spirit of McLaren. Which is to be pioneers and a team that invents. Not a team that copies but a team that sets the trend.
"I am not interested in what the other teams are doing. I am only interested in seeing mine become the reference and the leading team in the medium and the long term."
ADVERTISEMENT
Article continues below this ad
However, Racing Point F1 looked inconceivably quick during winter testing. It could threaten McLaren F1 in the midfield fight this season.
Although, When asked if McLaren may lodge a protest in Australia, Sainz replied: "I don't know. That's a matter for the team."
Have you joined our Formula One fantasy league yet?
Join now: https://fantasy.formula1.com/league/100476?ftm=email
ADVERTISEMENT
Article continues below this ad
You shouldn't need the league code, but just in case here it is: 7ad1c48d7c.