Carlos Sainz Jr Pokes Fun at McLaren for Forgetting Daniel Ricciardo's Name
Published 05/13/2021, 6:46 AM EDT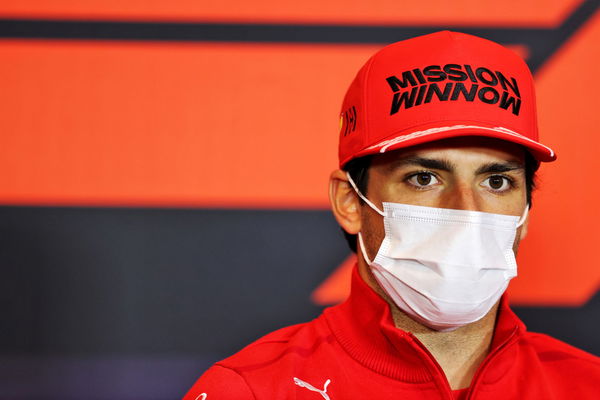 ---
---
At the Spanish Grand Prix, there was a sense of deja vu as far as Carlos Sainz Jr was concerned. Some time during the race, the McLaren team radioed Daniel Ricciardo and asked him to pit. However, race engineer Tom Stallard accidentally called him Carlos, before catching and correcting himself. To his credit, Ricciardo did not even bat an eyelid.
ADVERTISEMENT
Article continues below this ad
Instead, the Australian driver simply acknowledged the message and dived into the pits. Soon, this became a bit of a running joke, especially when Carlos Sainz got in on the action. Stallard even confessed that this was a problem that he faced every time the F1 paddock raced in Spain.
ADVERTISEMENT
Article continues below this ad
Last year when Sainz Jr was with the team, Stallard accidentally blurted the name 'Darren'. He immediately apologized for the embarrassing gaffe, but the Spaniard wanted to keep the joke running. He cheekily replied, "Hi Tom! It's Darren," to everyone's amusement.
Why did Carlos Sainz find this funny?
ADVERTISEMENT
Article continues below this ad
Apparently, 'Darren' was a McLaren race strategist and Stallard thought he was talking to him instead of Sainz. According to Sainz, aside from the pit-to-car radio channel, there was also a direct line to the McLaren factory. It was clear that Stallard had hit the wrong button, and the feed went to Sainz out on track.
Coming back to the 2021 Spanish Grand Prix, the curse struck Stallard again. This time, he briefly forgot that Carlos Sainz no longer raced for their team. Admittedly, this also means that poor old Sainz will be missing his time singing Smooth Operator on the radio. Those were often the main highlights of their relationship in the 2020 Formula One season.
Now, the Spaniard is racing for Scuderia Ferrari, and Daniel Ricciardo has taken his place at McLaren. As a result, poor old Tom Stallard will have to get used to saying Daniel Ricciardo's name more often. Another thing that the fans will miss will be the 'bromance' relationship between Sainz and Lando Norris.
ADVERTISEMENT
Article continues below this ad
Hopefully, Ricciardo and Norris' time with the team gives us as many moments to cherish, if not more!