Carlos Sainz Voices His Displeasure With Lando Norris' 'Unpleasant Post'
Published 09/04/2021, 5:07 AM EDT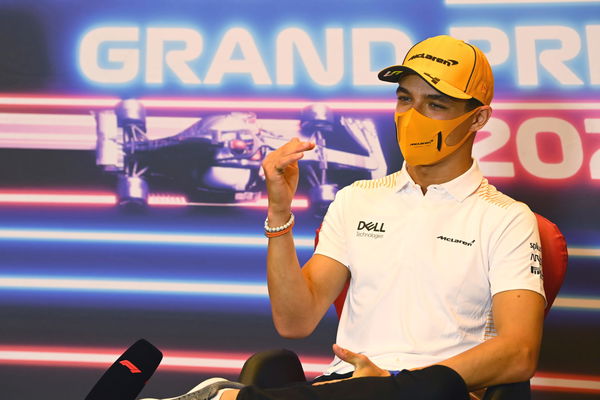 ---
---
It is no secret that Lando Norris and Carlos Sainz have a special bond. The duo spent two years at McLaren and formed one of the most iconic bromances in the Formula One paddock. Even though Sainz has moved to Ferrari, the two still have fun together by playing golf.
ADVERTISEMENT
Article continues below this ad
However, this time it was Norris who won the round. But, his former teammate was quite unhappy with Lando's post on social media boasting about his victory.
ADVERTISEMENT
Article continues below this ad
Carlos Sainz isn't happy with Lando Norris' post on social media
Both of them have been frequently playing gold together, and have had banter along the way. This time things were different as it was the McLaren driver who beat Sainz and had to show it off on social media. However, Sainz wasn't pleased and stated that if he posted the number of times he won against Norris, he would be depressed.
Speaking at the press conference on Thursday, the Ferrari driver said, "I played some golf with Lando. Lando won this time, although he did a particularly unpleasant post on social media, like saying I "crumbled" or something like that."
"When we were just playing for fun, imagine I would have to put in social media all the times that I beat him at something. He would be depressed."
Max Verstappen, who sitting beside Sainz chimed in and said, " He would have a lot of posts."
Sainz replied, "He beats one time, he's on social media like, "Everyone I beat Carlos. I beat Carlos."
Watch Story: From Serena Williams to Chris Hemsworth: Celebrities Lured by the Glitz and Glamor of Monaco
What did Norris say to Sainz about their game of golf?
Sainz spent his 27th birthday with his former McLaren teammate. The Spanish driver was hoping to win this game, especially since it was his birthday. However, it was Norris who came out on top to claim victory. Naturally, the 21-year-old couldn't hold back the banter and had to share with the world that he beat Sainz.
ADVERTISEMENT
Article continues below this ad
He said on his Instagram story, "Scored the best nine holes ever. Under pressure against Carlos Sainz. He crumbled."
ADVERTISEMENT
Article continues below this ad
Now, with this game of golf behind them, the two will shift their focus on the Dutch Grand Prix this weekend. Will Norris beat Sainz, but this time around the racetrack, and boast about it on social media? Or will Carlos prevent from doing so? Let us know what you think in the comments below.