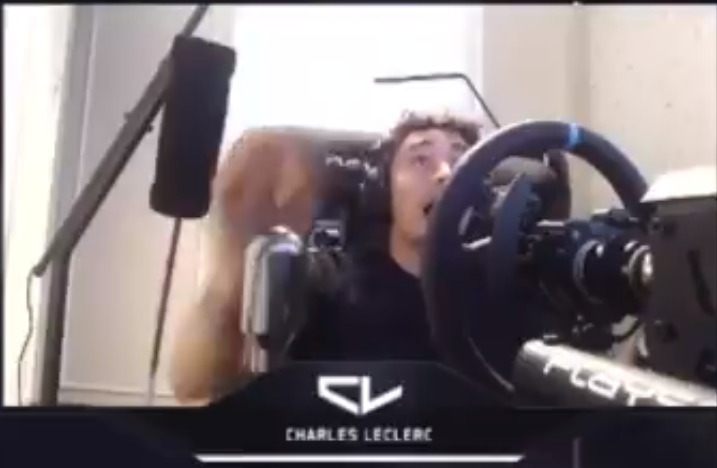 This week, fans were subject to shocking news, as Carlos Sainz Jr revealed he will join the Ferrari group from 2021. This news has put the Spanish racing back in the headlines since Sainz will be the third Spaniard to drive the red car. There he will team up with Charles Leclerc.
Until the 2020 Formula 1 season commences on July 5 in Austria, drivers engage themselves through sim racing. One of the most active gaming drivers is Charles Leclerc.
The Monegasque has discovered a decent way of distraction during quarantine on the Twitch. The driver streams his games in the 2019 F1 game through which he keeps on testing his driving skills. He has transformed his channel into a must for enthusiasts of sim racing and Esports, since it communicates practically all the games he plays on the test system.
Charles Leclerc had an absurd Twitch moment
Charles Leclerc is one of the individuals who, when he takes a wheel, overlooks everything else, regardless of whether he is in a virtual race. Recently, the Monegasque featured in one of the most strange moments seen on Twitch.
. @Charles_Leclerc : "So my girlfriend had to subscribe to my twitch channel to tell me to open the door." 🤣

(Charlotte forgot her keys at home)https://t.co/Hja90wZ0Rn#F1 #Charles16 pic.twitter.com/dyXYZGNfd1

— Charles Leclerc Fan Page (@LeclercNews) May 16, 2020
This Saturday he was evaluating a new rally video game when he forgot about his surroundings.
He was engaged to such an extent that he didn't see that his phone was ringing. It was his girlfriend, Charlotte Siné. She was calling him from outside his apartment. She had left the keys and couldn't enter.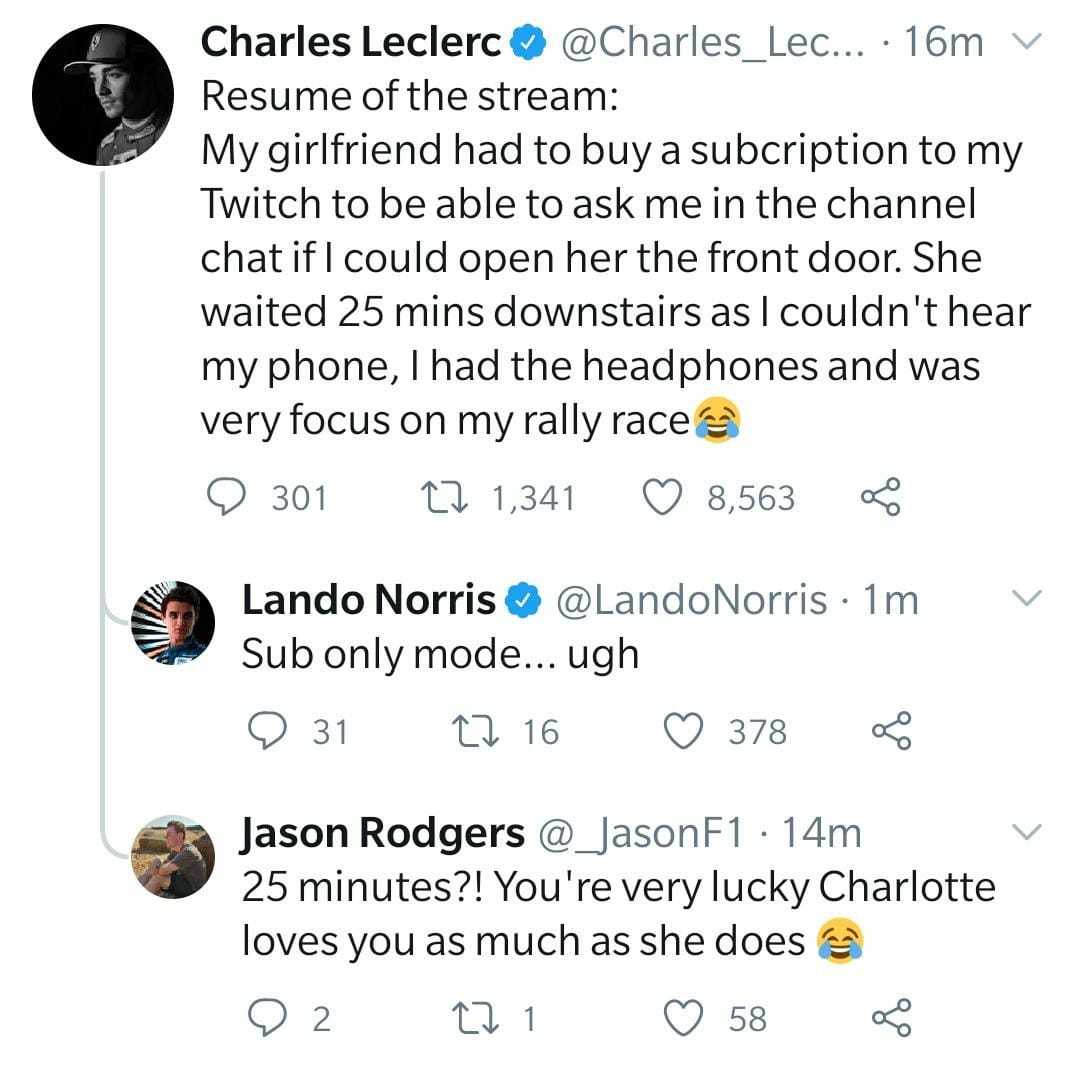 When Charlotte realized that Charles was not opening, she had the strangest thought. She subscribed to his twitch channel to send him a message, realizing that he will undoubtedly read it there. This was seen live by the many individuals who were following the game.
Leclerc was live on twitch when he saw the message. He said: "Ah! My girlfriend! My girlfriend is on Twitch telling me to open the apartment, poor her! Wait a second."
When Charles Leclerc returned, he said: "So my girlfriend had to subscribe to my Twitch channel to tell me that I had to open the door, so I gained a subscription. I'm so happy."
"Resume of the stream: my girlfriend has had to buy a subscription to my Twitch to ask me in the chat if I could open the door for her. She has waited 25 minutes downstairs and I couldn't hear the phone because I had my headphones on and was very focused on the rally race, " he wrote on Twitter.
Of course, Charlotte did not like it. "She has only subscribed for a month," he said.
Abhay Aggarwal
I am an avid follower of Formula One, Baseball, Cricket, and Lawn Tennis #MercedesAMG #Yankees